This week's art challenge is brought to you by Keri Bowers (learn more about Keri in her bio below!)
Puppet Art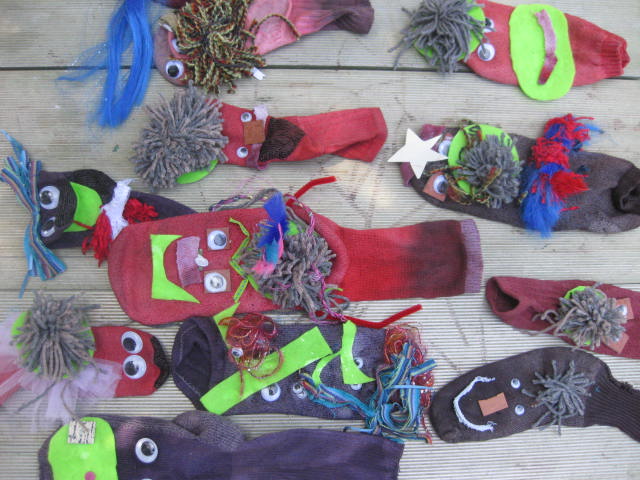 Suggested materials:
Glue, scissors, yarn, beads, paint – anything goes!
1. Gather recycled items from around your home
2. Create a puppet(s) using an old sock(s)
3. Take a picture or video of your puppet(s).
4. Post to SquagSocial space for all your new friends to see! Make sure you title it and write a description so kids can leave comments!
5. You have until July 15th to complete the project.
Not a member of squag.com yet? Sign up for FREE here. Note: Squag is a social platform for children 18 and under. You can still participate in the project if you are over 18. We'd love to see your creations!
See more insights from your mentor, Keri Bowers here.
Happy Creating!
From your friends at The Art Of Autism + Squag.com
Questions?
Please email: info@squag.com
About Keri Bowers
Filmmaker / Advocate / Speaker / Author / Artist / Mom
For nearly 3 decades, Keri has used the arts as "free/low cost" power tools & core values in her work in film & skills building – and with her autistic son, Taylor (now 27), and his younger brother, Jace. With active goals, objectives & outcomes built in mind, Keri emphasizes the use of fine art, drama, movement/ dance, music, video modeling, and film to develop skills including language, cognition, social, life, physical, emotional and spiritual well-being to grow skills with autistic kids and adults. The process is generally more important than the outcome.
Keri's films include Normal People Scare Me Too (2016); ARTS (2008); The Sandwich Kid (2007) and Normal People Scare Me (2006). Keri is the co-founder of The Art of Autism, and is a featured contributor to Autism Asperger's Digest Magazine. Books include: Autism Movement Therapy; Waking Up the Brain, w/ Joanne Lara, and Mapping Transitions to Your Child's Future. Keri has been an art director for The Friendship Circle of Agoura Hills for 7 years; helping dozens of kids each month create and explore.
To purchase Keri's film(s) visit www.normalfilms.com