Autism in Love, The United States of Autism, Sounding the Alarm, What's Eating Gilbert Grape, The Other Sister, A Mile in His Shoes, Forrest Gump and White Frog are now streaming on Netflix. Part 2 is movies available on DVD
By Keri Bowers
There is not, has never been, and will never be, a film made that is the "best" or "perfect" film. Even the most beloved films of all time have detractors; those who will find fault and flaws in some aspect or another of its production values. This is doubly – or even triply – true in autism films which often divide people in the autism community. Inevitably, when we watch a movie, we bring with us, personal views and biases.
Whether a feature film or a documentary, a film loved or liked by some, will be despised/hated by others. Perceived distortions; characterizations; depictions; falsehoods; portrayals; politics and other things can make any film controversial; some more so than others.
As an indie *filmmaker myself, I can only say from my own view that each film lives into its own truth. Every film has its own unique point(s) of view, personality, texture, budget and aesthetic. Each film has a story to tell – even if it's not the one we want to hear.
This week, I went on a Netflix autism binge-watch of both feature and documentary films. Here are my impressions of a patchwork of some straight-up autism films, along with a couple of older films believed to depict or characterize autism. All are currently available on Netflix live stream https://www.netflix.com/browse and/or rental from Netflix's DVD.com website, http://dvd.netflix.com/ This will be two-part blog, with Netflix Live Streaming film as Part 1; and Netflix DVD and other autism films as Part 2.
*Note: for Normal People Scare Me, an autism documentary film (Netflix DVD.com) made by my son, Taylor, me, and Joey Travolta, obviously I can't review our own film, but I can share others' truths about it, so I've posted Amazon and other ratings I easily found online. The verdict is still out on our newly released sequel film, Normal People Scare Me Too (2016). Hopefully you'll see it soon, and judge it for yourself.
AUTISM IN LOVE (2015)
In Matt Fuller's Autism in Love we glimpse into the compelling and diverse lives of four autistic adults and their respective relationships with love.
Up close and personal, we meet Dave and Lindsey who've been together together for eight years. Both are employed, savvy, quirky and diverse. I fell in love with their love – and especially with Lindsey's more artistic nature (and jewelry.) While they are comfortable with what I think of as typical relationship concerns, there was an uneasy tension at times in how they related to one another. Still, I walked away feeling like they had a better grasp of navigating personal difference in their relationship than I ever have. I found myself applauding their realness and ability to go with the sometimes uneasy flow.
Lenny, a young twenty-something fella who lives with his mom, struggles not just with being autistic, but with what he believes a "real" man should be. I related to his desire to get a girl, because I've known so many young men and women who feel isolated and estranged from love and connection, who also desperately want to get a partner. I was equally connected to how Lenny's life is spent jobless, watching sports, and playing video games, and felt heartbroken for him and so many others in his situation; at times, my own son included.
It was Stephen, however, who stole my heart. Perhaps it's his (slightly older age) or his sympathetic parents who raised him in an era when there was no front page news in autism. Stephen's wife of 20 years, Gita, who we meet briefly, died from ovarian cancer before the film was completed. We thus see Stephen processes immense grief in his own unique way. I cannot help but wonder how he's doing today; I was widowed at a young age, and it took more than a decade to truly rebound. His loss hit home hard. If you've lost – or fear losing a loved one – which happens more than we think in autism, Stephen's loss will tug at your heart.
UNITED STATES OF AUTISM (2013)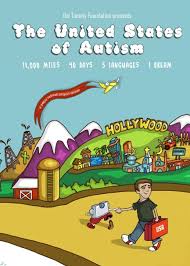 The first autism organization ever to win the Pepsi Refresh Contest was The Tommy Foundation. With a $50,000 budget, the organization's founder Richard Everts, the father of an autistic son, sets out on an 11,000 mile, 40 day trip across the United States to visit 20 families and individuals affected by autism.
The families Everts interviews are as diverse in culture, race, religion and socioeconomic status, as autism is diverse to each person. Interviews include verbal and non-verbal individuals, family members (some who are political / autism advocates,) a politician and medical doctor. I fell in love with the families in this film, feeling a special kinship to each one on some personal level of relativity. They are all relatable in one way or another.
Overall, I enjoyed this film, and appreciate the central concept of first-person experiences across a broad-range of subjects, but in the end, felt Everts spent precious film time with "canned" meetings at each front door, sharing landscape photos of the journey, adding unnecessary commentary, and sharing an unexpected last-minute side trip to meet his long-lost father. It felt like each of those precious minutes in the film (which add up) would have been better reserved for more and more camera time for the unique and wonderful families he meets during his journey.
SOUNDING THE ALARM (2014)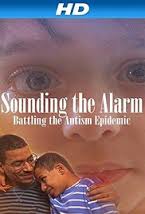 An Autism Speaks-backed documentary, Sounding the Alarm examines aspects of science, statistical data and legislative issues in autism. With primary commentary/interviews with Bob and Suzanne Wright, it also blends in 12 families affected by autism. As is usual in Autism Speaks' business strategies, it generally depicts more of the (tragic) problems faced in autism without providing balance to "speak" to the many hard-won successes, joys and triumphs experienced by autistic people and their families. Being in the latter category myself, I am biased in aspects of my experience in watching this film… however…
I walked away from this film conflicted in a surprising way. I actually agree with (some) of the points raised; i.e., there is no doubt that at a global level, society needs… no, MUST… better fund education, interventions, medical services, family care, respite and other opportunities for futures in autism. We are behind the eight ball on that for sure. If and when viewed with an open mind, one cannot help but say that the Wright's have contributed to the implementation of vital legislation, insurance reform, and science important to the autism community. Sadly, however, their critical successes are all-too often drowned out by the fear tactics they widely publicize, and that's where I get stuck.
I want to be more supportive of Autism Speaks' many accomplishments, however, until they broaden their voice to include voices of autistics and families not living in tragedy; do not want a cure at all cost; and give more resources to "what now," they lose me. The Wright's, through Autism Speaks, have so bashed and bruised a significant portion of the autism community over the past decade, that it's hard to hear their successes when the louder voice says autism steals lives and is all-and-only-tragic.
I do not think it wise or fair to dismiss out-of-hand, a person/family whose challenges in autism are experienced as a life stolen; a daily pounding of crashing waves. And, I think it unfair to argue with those who cannot sleep at night; who have safety, injurious, behavioral and life threatening circumstances, etc. to cope with. In this regard, this film successfully shares glimpses into those lives, but leaves out voices for millions of people who experience autism as a neurodiversity – that is simply being human – in all its complexities, challenges and rewards.
No matter which side of the fence you sit on; the tragic, the possible, or in the middle, I highly recommend watching this film with an open mind. Each viewer has the opportunity to learn something from the other side of personal experience. This film is a litmus test to our own tolerance, acceptance, diversity, and understanding of autism and of people's differences. The truest test of living diversity, is being open to others' points of view and having rational discussions without completely bashing each other.
WHAT'S EATING GILBERT GRAPE (1993)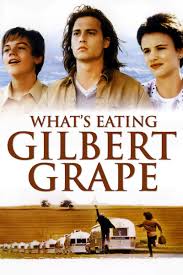 Set in Endora, Iowa, What's Eating Gilbert Grape depicts a loveable, quirky family living in a small town where everybody knows everybody's business. The eldest brother, Gilbert Grape (Johnny Depp) is the patriarchal anchor in a family long-ago abandoned by a father who committed suicide. Momma (Darlene Cates, who gives us a stellar performance,) is home-bound because of her extreme weight. She is a sympathetic character, but irks me because though she has loads of opinions (and love) for her kids, she turns the primary expectations of protecting and parenting them over to Gilbert.
The household, which includes two feisty if not argumentative sisters, is kept in a frenzy of chaotic mishaps by Arnie (Leonardo DiCaprio) – who frankly, steals this film. Arnie is Gilbert's retarded younger brother; but since the film's release, and as autism has grown many-fold, many people believe DiCaprio's performance mimicks not just MR, but autistic-like behaviors. DiCaprio is said to have modeled his character after spending 3 days at a center for mental retardation and autism to prepare for his role.
Los Angeles Source Unknown: "DiCaprio visited a school for mentally retarded and autistic teenagers. He adopted the characteristics of voice, manner and behavior from several different boys, creating his own character."
Leonard DiCaprio: "I could have made him autistic. I could have made him anything. He was officially entitled 'mentally retarded' but I like to call him Arnie."
What's Eating Gilbert Grape is a film that touches the heart. While not taking itself too seriously, at the same time, it weaves a darker portrayal of social, prejudicial, health, safety, economic and other issues into its fabric. Overall, the characters in this film are lovable – even when they're not.

THE OTHER SISTER (1999)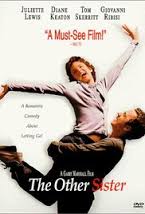 Toward the end of this film, Carla yells at her mother "Can't you see me? You never look at me!" With tears, she recites what she'll never be good at; all things her mother wants her to be. She then adds "…and I can love – and I love Daniel and he loves me very much."
In The Other Sister, Carla Tate (Juliette Lewis), a mentally retarded young woman who was sent away to a boarding school for children with intellectual disabilities, returns to her family home after aging out of high school. With a fierce and determined desire for independence, she reunites with her overbearing perfectionist mother, Elizabeth (Diane Keaton), and her loving, sympathetic, if not passive father, Radley (Tom Skerritt). Along with two sisters, the family struggles to come to terms with Carla's needs as a young adult woman.
Shortly after her return home, and feeling smothered by her mother, Carla runs away – back to her former school where the headmaster tells Elizabeth that Carla needs to be heard and appreciated for who she is and for her persistence. "Independence will give Carla what you and I will never be able to give her… Dignity." Thereafter, Carla enrolls in college where she begins to discover independent self, love and romance with Danny (Giovanni Ribisi), a young man with a similar disability.
Like other films not specifically focusing on autism, Carla's character was once described by theautismnews.com as having many "Autism-like" characteristics, so we added this film to our Netflix list.
Here's where my impressions of the film might get me into a lot of trouble with some. Notwithstanding granting latitude for stereotyping and broad-brushed strokes that did not impress me in this film, there were many, many elements of real life. Family and societal issues, feelings, fears, and attitudes are explored. In some moments, I found the acting spot on, in others, moments felt too staged. It was a mixed bag for me. There were things I liked and things I did not. For those moments that rubbed me the wrong way, I reminded myself that this film, released in 1999, came at a time when we were just beginning to discuss and implement the larger issues of person-centered values and principles.
With that, I add Roger Ebert's Review of this film, written in 1999. His review is in alignment with what we widely know today as the abelist and/or neurodiversity movement to the extreme. "The Other Sister is shameless in its use of mental retardation as a gimmick, a prop and a plot device. Anyone with any knowledge of retardation is likely to find the film offensive. It treats the characters like cute little performing seals–who always deliver their "retarded" dialogue with perfect timing and an edge of irony and drama. Their zingers slide out with the precision of sitcom punchlines." While I respect this review, I do not think this film is all one thing or the other. It does have value.
WHITE FROG (2012)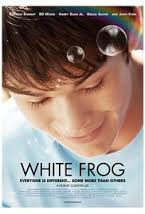 With all the films I binge-watched over the past couple of days, White Frog was my surprise favorite. The film, which starts out at a steady pace, takes some surprising turns and inside-out twists by adding a lot (did I say a lot?) of politically correct issues to the plot. I had no idea what the film was about (I had read no reviews before seeing it on an autism film list,) so I went in not knowing at all what to expect. This was an advantage, because with no expectations or preconceived notions I was able to just watch and flow.
This film centers around the very close relationship between two brothers, Chaz Young (Harry Shum, Jr.) a popular, outgoing high school athlete, and his younger Aspie brother, Nick (Booboo Stewart). When Chaz, who is favored by their father, adored by his friends, and idolized by Nick, is tragically killed by a drunk driver, Nick's world spins out. While his parents (Joan Chen, and BD Wong) struggle in their own grief and attempts to preserve their "perfect" son's memory, Nick struggles to deal with his brother's death and feelings of being misunderstood by his parents.
Nick seeks out, and eventually finds comfort and connection in befriending his brother's best friends after he is invited to their weekly "study group," which is really a poker party with booze. Slow to accept Nick in the shadow of his brother, here is where the film begins to take its drastic weaves and turns. What unravels next – not just for Nick, but for everyone, are discoveries about secrets, lies and self-discovery, taking us on a kinda sad, yet enlightening journey. Despite some corny Hallmark moments and an emphasis on stereotypes, this film has a big heart and much to remind us to remember to remember think about.
A MILE IN HIS SHOES (2011)
I am not so much a baseball fan, nor a fan of fictional productions based around religious and biblical themes. I will watch it, I just didn't get to it for this blog. I thus rely on a review by Common Sense Media.
"Parents need to know that A Mile in His Shoes is a Christian-themed baseball story about an autistic 18-year-old named Mickey who learns to be a winning pitcher in the minor leagues. The film goes to great lengths to show how Mickey perceives and comprehends the world around him, and on the whole, Mickey is presented with dignity and humanity. There is one minor instance where a player pulls a prank on Mickey, but the other players like Mickey for who he is and stand up for him. There is also a scene where Mickey is jumped by two men in masks in a park and punched in the face. Still, on the whole, A Mile in His Shoes is a wholesome baseball movie about compassion and understanding for those who are a little bit different from most."
FORREST GUMP (1994)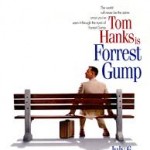 * I cannot say enough about this film – which is a film least likely to find harsh critics. A fan favorite – certainly one of mine – all I will say is "near perfection." I post a portion of a review by Peter Travers, Rolling Stone, (July 6, 1994) – likely some will find fault with his unwittingly "abelist" wording of the times… thus even this review is note-worthy as educational.
"Forrest Gump is a movie heart-breaker of oddball wit and startling grace. There's talk of another Oscar for Tom Hanks, who is unforgettable as the sweet-natured, shabbily treated simpleton of the title. The Academy is a sucker for honoring afflicted heroes. In Hollywood, it's always raining rain men. Credit Hanks for not overplaying his hand. He brings a touching gravity to the role of an idiot savant from the South who finds strength in God, country, his childhood pal, Jenny (Robin Wright), and his good mama (Sally Field). When Forrest falls a few IQ points shy of minimal school requirements, Mama knows who to sleep with to bend the rules. Her son has a gift. As Forrest makes his pilgrim's progress from the '50s to the '80s, he becomes a college football star, a Vietnam war hero, a shrimp tycoon and even a father.".
Forrest Gump was portrayed to be mildly MR. Autism was never explicitly mentioned or even suggested. However, his behavior is believed by many to resemble characteristics of autism. Forrest Gump is also available on Netflix DVD rental.
***
Keri Bowers is the co-founder of The Art of Autism, and owner of Normal Films. Along with her son, Taylor, she has created 4 documentary films, including Normal People Scare Me, The Sandwich Kid, ARTS, and Normal People Scare Me Too. Sharing a byline with autistic artists and advocates, Keri writes regular, feature articles for Autism Asperger's Digest Magazine. Her books include Mapping Transitions to Your Child's Future; Autism Movement Therapy; Waking Up the Brain (w/ Joanne Lara,) and Single Pregnancy, Single Parenting. Follow her on Twitter @autismfilms – Facebook – https://www.facebook.com/keri.bowers – and on Linkedin.