Join the Art of Autism newsletter to keep up with the latest opportunities here.
May 2017
IOD Seeking 2018 Calendar Submissions.
Winning artists receive 5 free calendars.
Deadline June 30, 2018. More information here.
The Art of Autism seeking blogs of those with Dual Diagnoses
The Art of Autism is seeking blogs throughout May on those with dual diagnoses for Mental Health Month. Email theartofautism@gmail.com
2017-2018 VSA Emerging Young Artists Program – Deadline Extended to May 10, 2017

This year's VSA Emerging Young Artists Program's theme is Electrify!, and we're seeking artwork that is charged with ideas, that acts as a conduit for creative reflection on the past, explores the "now," and invokes a future full of possibility and inclusivity. Cash Prizes! For Artists 18-25.
2017 Apothetae at Lark Playwriting Fellowship – Deadline June 15, 2017

This is a two-year residency for a disabled writer. The award includes a $40,000 fellowship stipend paid in monthly increments for two years, plus production funds. The Fellowship is open to candidates throughout the United States. "While The Apothetae and The Lark are based in New York, we are eager to ensure that this program is national in scope. Much of the fellowship activities can occur wherever the selected Fellow resides, and when program activities require the Fellow's attendance in New York, travel and housing costs will be provided."
Call for Selfies – Deadline May 15
Faces Project Statement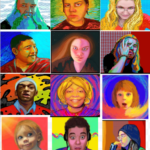 In search of:
Interesting emotional selfies or photographs. Not your grandma's prim and proper duck-faced selfies. I need faces in shock, surprise, anger, rage, irritation, sadness, contentment, jealousy, critical, excited, elated, proud, teasing, annoying, silly, enjoyment, or others I haven't mentioned (but no orgasmic, please). Those lucky chosen selfies will receive a digital copy (jpeg) of their painted portrait. All selfies need to be in by May 15th.
Please send selfies to aces.art.project@gmail.com
Siblings of Autism Video Scholarship – Deadline July 31, 2017
The 2nd Annual Siblings of Autism Video Scholarship Contest is underway! Siblings of those living with autism are encouraged to develop a short 3-5 minute video that identifies YOUR realities of autism.
"Along with the gifts came the challenges. I would not say it was an easy journey. The dynamics in my household while growing up were at times overwhelming. I recall the many times my brother, Matthew, would self-harm. It was difficult to watch, and even more difficult to understand given that I was so young. Now as an adult, I can understand how those experiences shaped the man that I am today. I want to hear about your experiences and how they shaped you." –Jason Cherry
Decisions on scholarship winners will be announced late summer. Seven scholarships will be awarded as follows: (1) $10,000, (1) $5,000, and (5) $1,000.
A sibling can be any age. Scholarships awarded can be used for post-secondary education opportunities, other educational pursuits, or camps. For more information about the scholarship contest and to submit your entry, please visit siblingsofautism.org. Now it's time to get creative and have fun!
Hope So Bright Foundation needs Vloggers
Hope So Bright is opening their Youtube Channel as a pulpit for anyone with Autism who is aspiring to be Vlogger Email nate.hopesobright@gmail.com
***
Casting Notice – Dan Bell Casting Worldwide
Project: PAID DOCUMENTARY PROJECT
Interviews via Skype or Facetime: Beginning 3/31
People with Interesting Stories that have used Fitness & Workout Apps with their Tech Devices to Improve their Quality of Life.
We are looking for interesting stories of overcoming adversity and life's struggles or challenges by utilizing apps & technology to improve quality of life (i.e., amputee, Wounded Warrior, Paralympic athlete, wheelchair athlete, organ transplant recipient, cancer, stroke, or heart attack survivor, diabetic, major illness or injury, high blood pressure, heart condition, obesity/overweight, sober living, AA, NA, etc.). Email the following to keepmovingcasting@gmail.com.
1. Name, Age
2. Contact Info (phone, email, Skype)
3. City, State, Country you live in
4. Tell us your story? How has the use of Fitness & Workout Apps with your tech devices helped you improve your quality of life?
5. What APPS & TECH DEVICES do you use?
(Please be specific – Make and Model)
6. Recent photo