Join the Art of Autism newsletter to keep up with the latest opportunities here.
March 2017
Call for Selfies – Deadline May 15
Faces Project Statement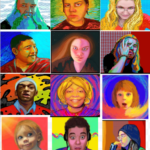 In search of:
Interesting emotional selfies or photographs. Not your grandma's prim and proper duck-faced selfies. I need faces in shock, surprise, anger, rage, irritation, sadness, contentment, jealousy, critical, excited, elated, proud, teasing, annoying, silly, enjoyment, or others I haven't mentioned (but no orgasmic, please). Those lucky chosen selfies will receive a digital copy (jpeg) of their painted portrait. All selfies need to be in by May 15th.
Please send selfies to aces.art.project@gmail.com
***
Casting Notice – Dan Bell Casting Worldwide
Project: PAID DOCUMENTARY PROJECT
Interviews via Skype or Facetime: Beginning 3/31
People with Interesting Stories that have used Fitness & Workout Apps with their Tech Devices to Improve their Quality of Life.
We are looking for interesting stories of overcoming adversity and life's struggles or challenges by utilizing apps & technology to improve quality of life (i.e., amputee, Wounded Warrior, Paralympic athlete, wheelchair athlete, organ transplant recipient, cancer, stroke, or heart attack survivor, diabetic, major illness or injury, high blood pressure, heart condition, obesity/overweight, sober living, AA, NA, etc.). Email the following to keepmovingcasting@gmail.com.
1. Name, Age
2. Contact Info (phone, email, Skype)
3. City, State, Country you live in
4. Tell us your story? How has the use of Fitness & Workout Apps with your tech devices helped you improve your quality of life?
5. What APPS & TECH DEVICES do you use?
(Please be specific – Make and Model)
6. Recent photo

Book Cover Contest – New March 7 – Submission period April 1 – April 30
My name is Meghan and I am in the process of finalizing a book for publication entitled, Bridging the Gap Between Learning and Living. I have been a volunteer, teacher, consultant and advocate in the field serving individuals with autism for over twenty years. One of my most special memories was organizing an Art Gallery Night in Thailand, for a local community of unknown artists with autism. The book is both a tribute to the many individuals I have worked with, and a call to action for families, educators and community members. I am most passionate about making education relevant and dignifying of students' strengths and abilities. Here is an excerpt from the introduction:
"As people, we reach our potential when we see a glimpse of it; when someone encourages us that we can; when we get a taste of success. Individuals with special needs are not different in this way. Their way to get there might be, but they do have a destination, and it needs to be bright, and with opportunity for growth."
I am a fan of The Art of Autism, and would like to extend the opportunity to this incredible community to design a cover for my book. A cash prize of $250 will be awarded to the artist who can best capture the message of my book for its audience. More about me can be found on my website, www.special-travelers.org, and I would be happy to speak with anyone who would like more detailed information about the book. I can be reached through specialtravelers@gmail.com
***

We Are Lions taking art submissions for Autfest
We are Lions is taking submissions for poster and t-shirt art submissions for AutFest Autism Film Festival Art Contest (April 2017) . Find out more here.
We Are Lions is proud to have been selected to participate in the Navy Pier Art and Design Show this April 8th and 9th! We will be featuring WAL products, live artists, and original works from our nonprofit partners. This is a heavily attended event by art enthusiasts. We would like to include a diverse collection of works in size, subject, and medium in our booth. Our booth, however, is 10 x 12, so please try not to send us any murals or custom painted semi-trucks!
Accompanied with each piece, please include a list of 1) the names of the pieces, 2) the artists of those pieces, and 3) the prices. We Are Lions will be taking a 25% commission on sales of original artwork at this event. Pieces can be from any artist within in your organization. In addition, please include 4) brochures about your organization that we can display at our information table, and 5) a handwritten thank-you message from the WAL affiliated artists represented (example attached).
Please send original works no later than March 17th to:
David Schwartz
6709 Ramona
Lincolnwood, IL 60712
****
Filmmakers Autfest is taking submissions for autism films until March 14.
Deadline – March 17 – Museum of Special Art (MOSA) in Washington state taking entries for Autism Awareness Month Exhibit. Submission Guidelines here.
Enter your black and white line drawing for a chance to be part of a new book. Amazon GC's to the winners. 15 winners Deadline March 15, 2017Click here for more details
Deadline June 17, 2017 Children with Disabilities K – 12 VSA UBUNTU: Yo Soy…Je Suis…I Am…Because You Are More information here.
****

2017 National Leadership PAID Fellowships – Deadline April 17, 2017 and May 22, 2017
We at RespectAbility are pleased to announce that we are accepting applications for fellowships within the National Leadership Program from diverse backgrounds, to include those with and without disabilities, Veterans, international students, LGBTQ, and ethnic minorities. This is an opportunity for people who want to eventually serve in public office, or on key staff to Congress or the White House, or as reporters, PR experts etc. to cut their teeth and make the contacts they need to get ahead.
This program prepares its leaders by having high expectations, through on-going leadership sessions from seasoned professionals of diverse disciplines, mentoring, and individualized coaching, experiential activities, and daily projects that contribute to advancing the mission in the areas of (1) Public Policy/Employment, (2) Communications/Stigma, (3) Program Development/Fundraising; and (4) Faith Inclusion.
Who can participate? Driven, motivated, and passionate individuals with and without disabilities are encouraged to apply but they must have a strong commitment to fighting stigmas and advancing opportunities for people with disabilities.
Application Dates: The 2017 Summer Fellowship dates are June 5–August 11, 2017. Deadlines: Spring 2017 Fellowship applications are still being accepted through April 17, 2017. And, Summer 2017 applications are being accepted through May 22, 2017. To start applying, send your Cover Letter and Resume to shondam@respectabilityusa.org<mailto:shondamc@respectabilityusa.org>, and complete the application at http://respectabilityusa.com/about-us/career-opportunities/the-national-leadership-program/.
***
The Art of Autism takes ongoing submissions of art, poetry, and blogs. Email theartofautism @ gmail.com. We have over 1,000 people a day looking at our blogs and galleries. We hook up artists with opportunties.
February 2017

Calling all budding (and seasoned) artists!
Each year, as part of our Member Appreciation Week, ANCOR sends its members a gift featuring art created by someone who receives supports from one of our members.
Do you know an artist with an intellectual or developmental disability who would love to see his or her art featured on over 1,000 notebooks across the country? We are accepting submissions between now and March 6, 2017. Please send a digital image of the artwork (all mediums welcome!) to gsedor@ancor.org with the subject line 'Art for ANCOR' and please be sure to include the name of the artist as well as a contact person at the agency, along with a completed release form. The selected artist will receive a commission for the artwork as well as complimentary notebooks to share with friends and family. *One submission per artist, please.
The American Association of People with Disabilities is taking applications for their 2017 Disability Storytellers Fellowship. Apply here.
The Autistic Self Advocacy Network is now accepting applications for the 2017 Autism Campus Inclusion (ACI) Leadership Academy! The ACI summer leadership training prepares Autistic students to engage in disability advocacy on their college campuses. Accepted applicants will travel to Washington, DC and participate in advocacy training from June 10th to June 17th. Deadline Sunday, February 19. Apply here.
The Amplifier Foundation is giving out $5000 grants for professional photographers and illustrators for their We the People Campaign.
December 2016
Washington DC International Internship Opportunity. Openings for international interns with the United States International Council on Disabilities. Nine week summer internship. Deadline January 10, 2017.
November 2016
Embracing Our Differences seeking art for 14th annual event. $3000 in cash prizes and your art on a giant billboard. Deadline Jan. 10, 2017.
Monstering Magazine is paying disabled writers for submissions to Revolution is an Act of Love regarding ableistic rhetoric surrounding Donald Trump's campaign. Deadline Dec. 31.
September 2016
The Art of Autism is seeking art and poetry for peace for blogs this month. Email keri@normalfilms.com. Details here.
The Art of Autism is offering a cash prize of $100 for original art or poetry that can be made into a poster for our new upcoming store. We would like to create a poster or wearable piece of clothing with the theme of Acceptance, Neurodiversity, or any other autism-related message. Please email theartofautism@gmail.com with your high-resolution designs.
A major international wine distributor is partnering with the Art of Autism in using art from several United States artists on the autism spectrum for wine sleeves. They are seeking abstract art that has a feel of colors used in wine and wine making. Please email theartofautism@gmail.com with your art. They will be purchasing the art.
A Sound Paradigm is seeking an autistic artist to create the cover of their DVD. $500 cash prize. Deadline Oct. 31. Details here.
August 2016
CORE 12: Defining Ourselves!
Call for entry for their annual juried exhibition is open to all artists worldwide who identify as having a disability. Painters, Sculptors, Poets, Performers, Musicians, Filmmakers, and New Media Artists (and anyone who feels they don't fit ay of those categories!) are all welcome. They are looking for live performers as well!
Core 12: Defining Oneself
Jason Triefenbach, Exhibits Coordinator
1903 W. 169th St.
Gardena, CA 90247
310 527 7717
jtriefenbach@artsandservices.com
Deadline August 12, 2016 for artwork (this is an extended deadline for Art of Autism artists – mention you are part of our collaborative when submitting. Live performance proposals must be made by Aug. 18 )

***
Award winning author seeking essays by the disabled on Rites of Passage – Deadline Sept. 1. See information here.
***
Poems for Peace. Do you have a poem of peace or an illustration of peace you'd like to share. Email Keri Bowers Keri@normalfilms.com. International Day of Peace Observance is Sept. 21
***
DisArts Symposium – Call for Submissions
Grand Rapids, Michigan

Disability Arts have emerged as one of the most dynamic and culturally significant contemporary art practices of the last 20 years, gaining international momentum through exhibitions, performances and festivals. DisArt Symposium: Disability Arts Now! will gather together academics, critics, artists, designers, and arts organization professionals to consider the current state of Disability Arts and its future, exploring together the multitude of dialogues embedded in the dynamic fusion of human disability and contemporary art. Deadline Oct. 3, 2016
***
Luna Luna
Magazine
seeks personal narratives, fiction, poetry, and art focused on Disability, Chronic Illness, and Mental Health. Intersectional voices and experiences encouraged. Deadline:
August 1, 2016.

***
Can Do Musos
An international organization was recently established to promote and support musicians with disabilities from all over the world. "We are looking for passionate musicians with challenges to profile on our website and be a part of this unique new organisation. So far we have attracted people from Australia, Canada, United Kingdom, United States and Venezuela." Musicians with disabilities can submit the online form located on the Can Do Musos homepage.
***
July 2016
Madison House Autism Foundation seeks artists with autism to exhibit their artwork at our upcoming fundraiser at Black Rock Center for the Arts in Germantown, Maryland. Participating artists will have their images professionally reproduced and will receive an honorarium for exhibiting their images. The reproduced works will then travel as an exhibit to various facilities such as libraries or community centers. Up to nine artists will be selected for the exhibit, with two pieces selected from each artist.
Name of Event: "Music with a Mission", a benefit concert for Madison House Autism Foundation. Due to the theme of the event, musically themed pieces are encouraged, but not required.
Work Media: 2D work and photography (Please note: all images will be professionally reproduced, so original artwork is not required for this exhibit)
Submission Requirements:
1. Brief biography of artist (250 words maximum)
2. Photograph of artist (300 dpi minimum)
3. Up to six high-resolution images: images should be in JPEG format, 150 ppi for visual art and 300 ppi for photography. All works will be professionally reproduced for the exhibit, so we will not need the original works.
4. Image identification sheet with image title, date of completion, original size, and original medium.
Deadline, July 29, 2016 – Email applications to Mary Liniger at mliniger@madisonhouseautism.org.
Sales: Artists will receive an honorarium of $50 per artwork selected for exhibit. If artists would like to sell reproductions of their artwork sold at the event or tour, artists will receive a 60% commission from those sales.
The Art of Autism partners with Squag for the Art Mentorship Project.
This project for kids under 18 starts July 1 with our first art mentor Keri Bowers – sock puppets. See the details here.
IOD Calendar
There is still time for you to submit artwork for the 2017 IOD Calendar which will feature 13 original works of art coupled with inspirational quotes. This is a wonderful opportunity to share your talent with a large and diverse audience. This year, all artwork featured in the calendar will center on the theme of "COMMUNITY". We are asking artists, both individuals and collaborations, to submit artwork that reflects "community" in some way. In addition to the two-dimensional artwork (ex. drawings, paintings) we have featured in the past, this year IOD is opening submissions to original photography. You can submit a maximum of three (3) pieces for consideration by completing and emailing the Artwork Submission Form.
The submission deadline is Friday, July 8, 2016.
"Heartfelt Possibilities" Exhibition
July 23 to October 24 at the MOSA Museum – Bothell, WA
The MOSA Museum is calling all Artists with Disabilities to come showcase your artwork and celebrate our Grand Opening in our "Heartfelt Possibilities" Exhibition at the Bothell Country Village.
This is an excellent opportunity for Artists with Disabilities to share their artistic talents and sell their artwares to our community in all types of mediums. For more information about entry to this exhibition, click on the submission guidelines.
http://www.museumofspecialart.org/#!calling-all-artists/udsoh
Deadline for entry to this exhibition is July 8, 2016.
Katherine Schneider Journalism Award for Excellence in Reporting on Disability – Deadline July 31, 2016
June 2016

Casting Call
We are searching for an actor for the lead role in a television series. The character is on the autism spectrum, so would like to get the word out to any actors who might be interested in auditioning. NETFLIX. SAM WATTS – To portray 18 years old, A high school senior on the autistic
spectrum. While Sam is in some ways "normal" (he's verbal, he attends a regular public high
school, and he just realized he might like to date girls) he still has a hard time reading nonverbal
cues, so much of the world is a mystery to him (especially girls). https://www.castittalent.com/Antarctica_Ep_101
Careers in the Arts Online Dialogue
June 6 through June 19, 2016
The National Endowment for the Arts (NEA), the National Arts and Disability Center (NADC), and the U.S. Department of Labor's Office of Disability Employment Policy (ODEP) warmly invite you to participate in our upcoming Careers in the Arts Online Dialogue. Through this virtual conversation, we are gathering insights from artists with disabilities and their allies on the progress that has occurred over the past 10 years for people with disabilities in the arts, and seeking ideas from the community on how best to continue making positive change in the field.
The Careers in the Arts Dialogue will take place from June 6 through June 19, 2016. Please join this important conversation and spread the word to other participants who may be interested. Register for the dialogue today!
http://careersinthearts.epolicyworks.org/
March 2016
ATTENTION *** C R E A T I V E *** AUTIES & ASPIES… The Art of
WHATS TO KNOW: WHAT'S *** Y O U R *** CREATIVITY?
We are SEEKING SHORT VIDEOS from autistic creatives…
Please showcase your creativity/ expressions in
ART, POETRY, DANCE, KARATE, DRAMA, COOKING/BAKING, SINGING, MUSIC… OR WHATEVER.
As part of your video, answer these questions.
1) What is your name and country?
2) Share your talent/creativity?
3) Why is autistic expression important?
4) What other expressions can we learn to accept?
5) Why is acceptance of differences important?
To submit your video visit our submission page.
VSA looking for children's art submissions (children with disabilities) for Yo Soy Je Suis I Am exhibit through the Kennedy Center – deadline June 8, 2016
Ambitious about Autism seeking submissions of art from U.K. artists for a London exhibit. Email elliecrawshaw82 @ gmail.com
DifferentBrains looking for artists for Autism Awareness Month. They will select five pieces total. There is no pay, but the artist would be mentioned at the top of the episode and credited at the end, as would the Art of Autism, and their information would be in the episode description (with any desired links). Pieces must be submitted by March 24th.
Specifics-
Images would need to be 1920×1080 resolution.
Images need a rectangular section we can show clips over (see the green rectangle in the attached example for placement).
Artwork must be entirely created by the artist submitting it
We encourage experimentation, but suggest not including animals or people in the image.
DifferentBrains.com is meant to be a positive community with uplifting stories and ideas, so we would want images that reflect that tone and aren't too "gloomy." Artist should also include a brief, single paragraph bio. Email diffbrains @ gmail.com, for more information.
Animators and Cartoonists
Project Passion looking for animators and cartoonists illustrating your passion. Deadline April 1.
Literary Submissions
Barking Sycamores publishes poetry, short fiction (1000 words or less), creative nonfiction (8,500 words or less), hybrid genre works (8,500 words or less), and art by neurodivergent (autistic, ADHD, bipolar, dyslexic, etc.) writers and artists. They seek work for their unthemed Issue 9 (Spring/Summer 2016). **DEADLINE** March 19, 2016. The philosophy of our journal is unique, so we ask that interested contributors consult their submission guidelines before submitting.
U.K. writers – The Creative Future Literary Awards competition opens on the 14th March. The Creative Future Literary Awards in the U.K. is a national literary competition and high profile awards ceremony which celebrates talented writers who lack opportunities due to mental health issues, disability, health or social circumstance. Prizes are awarded for both poetry and short fiction. The theme for the 2016 awards is 'A Sea Change'. This phrase, which has come to mean a radical change or transformation, is attributed to Shakespeare, and as 2016 marks his 400th anniversary, we thought it was quite fitting. You can view further details about this year's awards, how to submit your entry and sign up to the Literary Awards newsletter via the website. For all the latest information like the Awards Facebook page
The Art of Autism's Autism Shift seeking voices of unique and under-represented voices of people on the spectrum (or therapists, parents, etc.) To submit your blog visit our submission page.
AUTISTIC GIRLS OF COLOR – Art of Autism Advisory board member Leanne Libas wants to talk to you for a story she is getting paid to write.
This story will report on autistic girls of color feeling left out of the autism movement and discussion because the attention tends to be on white boys. The writer will use examples from media and culture to establish the environment these girls are forced to deal with. The article will feature the voices and experiences of at least 3-5 female teen girls of color who identify as an autistic person. Article will also include a "voice of authority" from an expert in the field.
Email leannealibas @ gmail.com
Poetry
Neurodiversity classroom is seeking poetry submissions, April is National Poetry Month and Autism Acceptance Month. They want to combine the beauty of poetry with the beauty of Neurodiversity. They are seeking poetry submissions from autistic children, teenagers and adults. There are no guidelines or theme for your poems~ write what you feel and how you feel it. Submissions can be sent to: Neurodiversityadvocate @ gmail.com. They will post poems on the page beginning on April first.
Film Festivals
Superfest, the world's longest running disability film festival is seeking film submissions. Deadline March 15.
Sprout Film Festival seeking submissions for films which feature a person with a developmental disability. Deadline March 26.
****
February 2016
Cake Decorations and Autism
Cake Decorators from around the world are going to use Art of Autism art work for a big cake decoration celebration on April 2, 2016, World Autism Awareness Day. The Art of Autism has collaborated for some of the art. Watch for the announcements about this celebration.
Million Gimp March is looking for art work about activism and disabilities. Performers and presenters will receive$500 honoraria for their work and up to $1,000 to cover expenses and arrangements to Washington D.C. for an October 2016 event.
VSA looking for children's art submissions (children with disabilities) for Yo Soy Je Suis I Am exhibit through the Kennedy Center – deadline June 8, 2016
Lambda Literary seeking submissions from writers of diversity.
Superfest, the world's longest running disability film festival is seeking film submissions. Deadline March 15.
Sprout Film Festival seeking submissions for films which feature a person with a developmental disability. Deadline March 26.
Arts & Autism Conference seeking proposals – deadline February 22.
The Autism Shift – We are currently seeking blogs for a new Art of Autism project based on The Autism Shift. We are asking those on and off the spectrum with unique and under-represented voices to send us narratives about the changing (shifting) or the need to change (shift) perceptions about autism and autistic people. For more information or to submit a blog for review, please contact submissions.the.art.of.autism @ gmail.com (remove spaces).