Join the Art of Autism newsletter to keep up with the latest opportunities here.
August 2017
The Art of Autism 2nd Annual Poems for Peace
The Art of Autism is seeking poetry and art for it's 2nd Annual Poems for Peace which coincides with International Peace Day, September 21, 2017.
We'll begin posting compilation poems & art in blogs on our website mid-August through September 2017.
Guidelines for submitting your work:
– Submit up to 3 poems. We reserve rights to edit with your prior agreement before publication
– Submit high resolution jpeg(s) of your art
– Submit a short paragraph about what your poem or art piece means to you.
– All submissions must be received by The Art of Autism by September 15, 2017
– The Art of Autism reserves the right to use editorial discretion in publishing all works
Email Keri@normalfilms.com
***
Palm Springs International Animation Festival – Call for Submissions

Deadline August 30, 2017
In collaboration with the 1st annual Palm Springs International Animation Festival, The Art of Autism invites animators to submit short films to be entered in the disabilities category, created to highlight special talents amongst disabled animators.
The event takes place November 9-11, 2017 in Palm Springs, California. Categories include:
Best Animated Short; Best Animated Music Video; Best Animated TV Series; Best Student Animated Film, and Best LGBT Animated Short.
Please see Festival submission guidelines and submit your film to the festival directly via Film Freeway https://filmfreeway.com/festival/PSIAF. Submission is free. Please notate along with your submission that The Art of Autism referred you.
If you'd like to be a part of the Art of Autism's umbrella of entries and be mentioned in our future blogs about the Festival and The Art of Autism's participation, email keri@normalfilms.com.
***
"A" TRAIN ~ Call for Art Depicting Subway Trains – for an irreverent new comedy… Songs and subway stops included!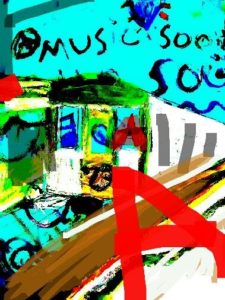 A one-woman play, "A" TRAIN, opens for 2 shows in New York City in late September. A part of United Social, "A" Train is written by veteran stage and television actress, Annie Torsiglieri, directed by Risa Brainin, with music by Brad Carroll. This seriously-not-to-be missed play was inspired by Annie's life with her son, autism, and life on the "A" Train.
Do you love trains and paint 'em?
The Art of Autism is supporting the "A" Train in a call for art to be used as in the background on stage for 2 roll-out performances in Manhattan. There is no compensation for your entry, however, high resolution digital photographic images of your art on stage during the performance will be provided to you. You will have permission to use the images in your professional bios and social media efforts to promote your art.
Deadline for submission is September 25, 2017. Please email keri@normalfilms.com for further details.
***
Love and Autism Conference
Deadline August 30, 2017
For the last couple of years The Art of Autism has had a display booth at the Love and Autism Conference in San Diego. This year the event is Sept. 30 – Oct. 1. If you would like your art to be displayed at the Love and Autism Conference please email theartofautism@gmail.com. We do not have funds for shipping the art. Especially interested in love-based themes for this conference.
***
CORE 13 – Defining Ourselves Call for Submissions
CORE 13: Defining Ourselves features artwork by artists with and without disabilities from the US and abroad. The exhibition is fully accessible, including sign language interpretation, braille, audio descriptions and is wheel chair accessible.
CORE 13 opens Saturday, October 21, 2017 at Liberty Gallery in Long Beach.
Deadline for Films – August 31
Deadline for Art – Sept 3
***
Siblings of Autism Film Scholoarship Opportunity
Deadline August 31.
One scholarship will be awarded for $10,000, one for $5,000, and five for $1,000.
Volunteer Interns
Looking for inspiring volunteer work? The Art of Autism, a nonprofit, is looking for interns to help us with our social media. Please email theartofautism@gmail.com if you can help!