Join the Art of Autism newsletter to keep up with the latest opportunities here.
August 2018


ART OF AUTISM PROJECTS
Art Contest – Themes of Inclusion, Disability, Education, Acceptance
The Art of Autism has partnered with the Disability Rights Legal Center (DRLC) for an art contest. Details here. Cash prizes provided by the Joe Mantegna Family. Deadline: August 15, 2018. Ages 14+ United States only.

PODS Project – Ongoing
The Art of Autism People of Diversity, Speaking Project. This project is the Art of Autism ongoing photo and interview database. Email PODSartofautism@gmail.com to participate.

2018 Poems and Art for Peace
Keri Bowers is curating the Art of Autism's 2018 Poems and Art for Peace. See 2017 Poems and Art for Peace here. We will be posting poems and art with a peace-based them in August and September 2018. Email keri@normalfilms.com
***
OTHER OPPORTUNITIES
Cash Prize for Exemplary Employee
October is National Disability Awareness Month – Nominate an exemplary employee here. Cash Prize of $3,000.
Disability Rights Storytelling Fellowship
AAPD is offering a fellowship to learn how to film your story and advocate through social media. Deadline Sept. 4

Diverse Voices Screenplay Contest
Diverse Voices is a screenplay contest and lab that strives to encourage stories that are told from perspectives that are often underrepresented in Hollywood today. Go here to apply.
Scholarships
The Churchill Foundation created a $5,800 scholarship with Serafin Martinez and a professor from Illinois that will benefit students with disabilities, specifically autism. Link: https://churchillpublicadjusters.com/public-adjusters-autism-scholarship/
The Arc is offering a limited number of Scholarships to attend their national convention in Nashville – deadline August 15, 2018
Argentina Exhibit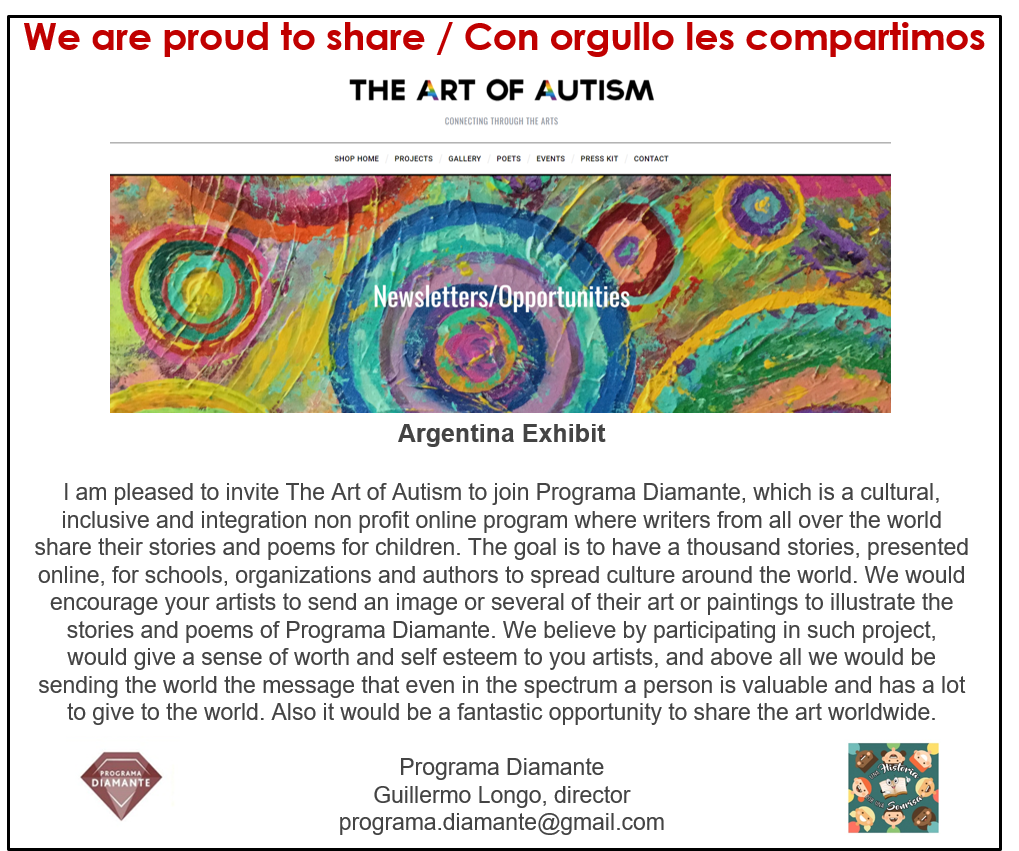 ***
Thanks to all our fans who have created Facebook birthday donations, The Art of Autism is now paying neurodivergent bloggers (those with autism and other developmental disabilities as well as those with a mental illness diagnosis) for their blogs. See details here.
***