Join the Art of Autism newsletter to keep up with the latest opportunities here.
June 2018
The Institute on Disability at the University of New Hampshire's 2019 Calendar – Deadline Friday June 29
The IOD's 2019 Calendar is a wonderful opportunity to share your talent on a global scale.
Here are some simple submission guidelines for artists to follow:
All artwork must be two-dimensional (i.e. drawings, paintings, or photography). Artwork may be created for the purpose of this calendar or may be selected from an existing portfolio of work.
Each artist is welcome to submit a maximum of three (3) works of art for consideration. Submissions can be sent via email as a JPG or PDF to contact.iod@unh.edu.
Submissions must include: Artist's Name, City, State, Phone Number, and Email.
***
Argentina Exhibit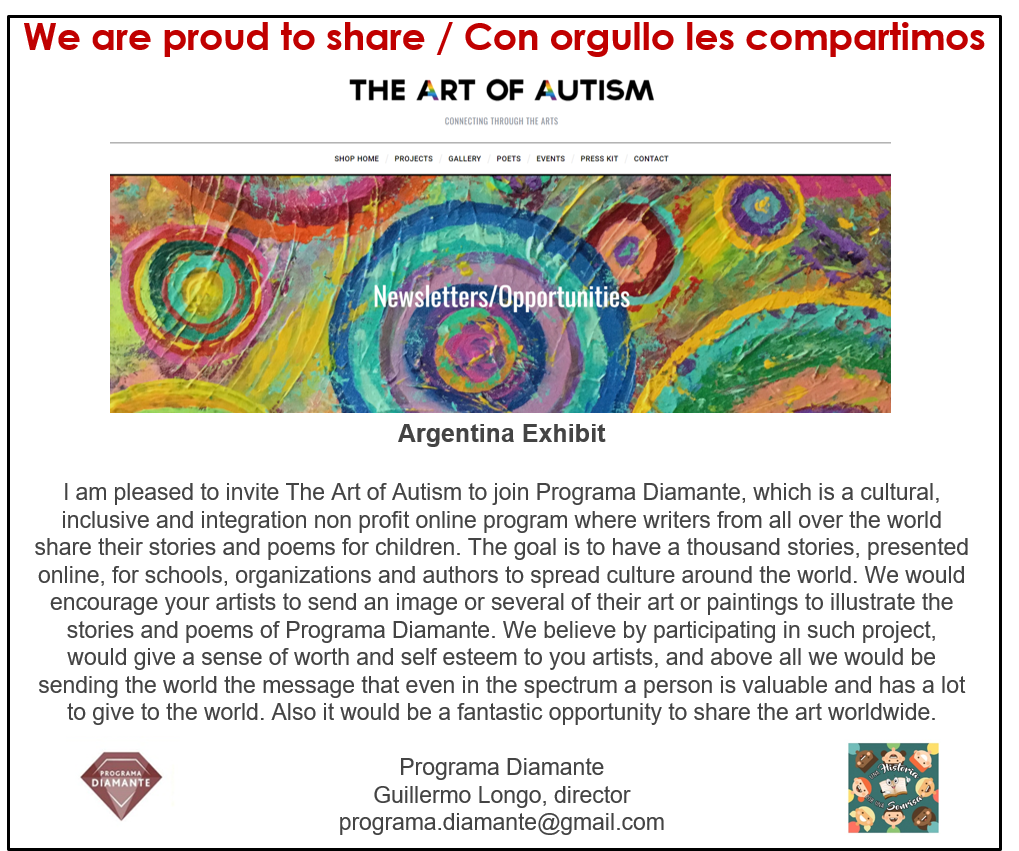 ***
The Art of Autism People of Diversity, Speaking Project. This project is the Art of Autism ongoing photo and interview database. Email PODSartofautism@gmail.com to participate.
***
Deadline July 1, 2018
San Luis Obispo Museum of Art

Home Sweet Home – A Juried Exhibit for California Disabled Artists. Application Form here.
***
Keri Bowers is curating the Art of Autism's 2018 Poems and Art for Peace. See 2017 Poems and Art for Peace here. We will be posting poems and art with a peace-based them in August and September 2018. Email keri@normalfilms.com
***
Thanks to all our fans who have created Facebook birthday donations, The Art of Autism is now paying neurodivergent bloggers (those with autism and other developmental disabilities as well as those with a mental illness diagnosis) for their blogs. See details here.
***