People of Diversity,
Speaking!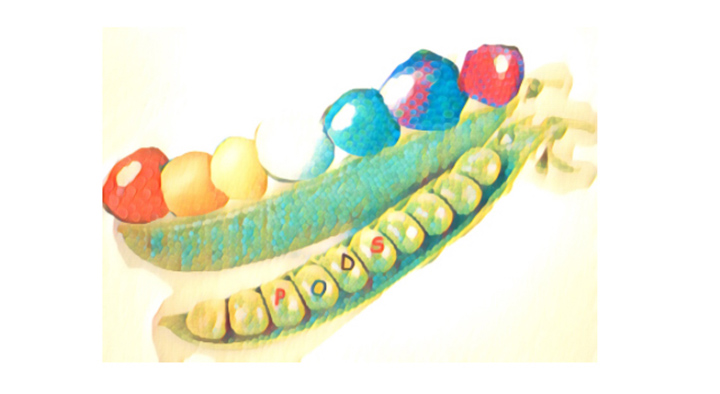 P.O.D.S. is Art of Autism's ongoing photo and interview database showcasing the diversity of people who color the autism spectrum.
DIVERSITY:
1: the condition of having or being composed of differing elements: VARIETY; especially: the inclusion of different types of people (such as people of different races or cultures) in a group or organization
2: an instance of being composed of differing elements or qualities: an instance of being diverse
• a diversity of opinion
Interested in submitting? Just inquire at the email above. You'll be asked to submit a photo, a link to your interests, artwork or blog (optional); and answer a few questions about what you are passionate about.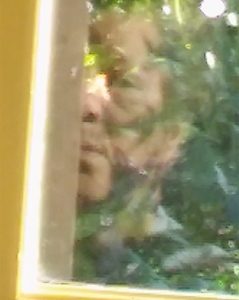 "I am a 75 year old woman who struggled for years to discover why I am so different from 'normal' people. It's been an interesting journey. When I was young I read all the time, hoping that books would explain how to fit in. As I was reading mostly novels, I didn't get a very realistic view of life which meant I acted overly dramatically. But that led to many years in the theater which was all to the good! In an earlier incarnation I was a writer – of plays and novels. Presently, I am involved in photography."
-Pamela Urfer
The arc of the moral universe is long, but it bends towards justice,
Martin Luther King, Jr.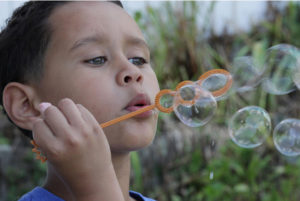 Camden Walker (also known as Super Camden) is madly in love with blowing bubbles! The manner in which he enjoys blowing them is a work of art unto itself. He blows bubbles with a creative passion, out of anything he can create to blow them out of, and at any time he possibly can. Cam finds a way to blow them, catch them, and new ways to play with his beloved bubbles daily. Camden is a soon to be 10 year old (as of this writing) who has Autism, ADHD, and OCD who loves his family, going outdoors, and of course BUBBLES!!! Follow Super Camden on Instagram where he shares where he goes and himself joyously doing bubbles in different places. He can be followed on Instagram or Facebook @supercam
-Camden Walker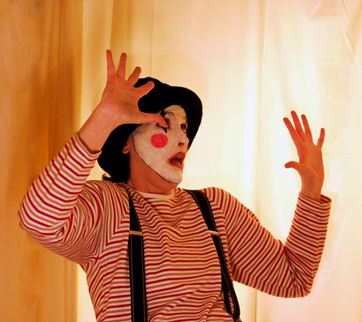 "I go to another place in my brain when I create. I know the brain reaches a theta wave state during creative expression and I know art in all its forms is a meditation of sorts. But for me, it's even more than that; it's necessary, especially when I've had high periods of social interactions or extreme stress. My spouse was enduring a terminal illness that lasted several years and eventually ALS took his life. I couldn't go to my creative place in my head by painting artworks during this timeframe, because I was consumed with his care. So I mimed instead, around my house and as I cared for him; and mime is also art; so this worked because I was often mute and mimes don't speak!" –
Kimberly Gerry Tucker
Video clips:
https://www.youtube.com/results?search_query=kimberly+gerry+tucker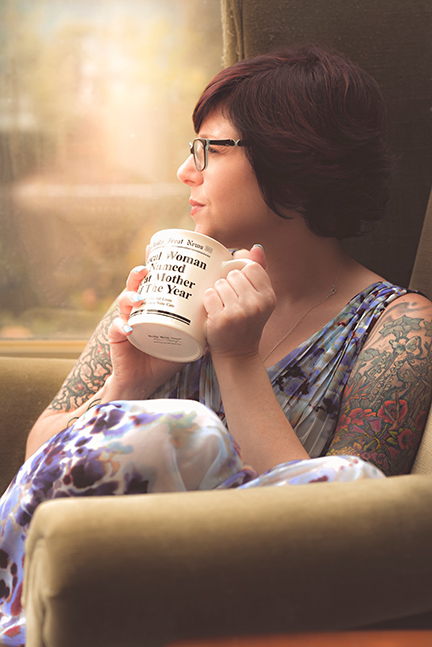 "I am a words person. I always have been. While other kids carried around toy trucks and Barbie dolls, I was never without a book. It was not until my autism diagnosis at age 36 that I realized that words were more special to me than most. It turns out I am, and always have been hyperlexic and hyperverbal. If I am not reading words, I am usually thinking them and speaking them. But my preference is to take this unusual strength I have with words, and create. Words are beautiful and when put together is just right the order, they make a beautiful symphony of experience. Words allow you to give substance to ideas, thoughts, dreams, and nightmares. It is when I am writing that my thoughts are most clear. It is when I am writing that I am the most me." –
Becca Lory, CAS BCCS
www.beccalory.com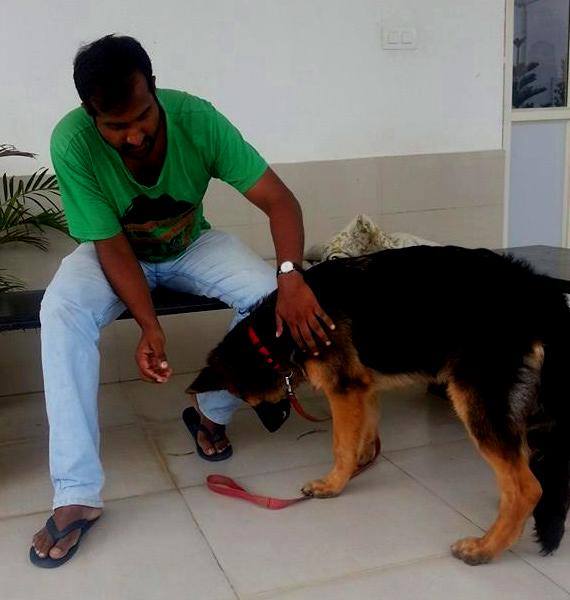 "Art helps me to cope with everyday stress and to come out of the emotional pain of the past. I do painting, writing, poetry, stories, photography, plays and short movies. Here is a poem I wrote about dogs:
They can hear my soul.
I can hear their soul.
I can be expressive in front of them without the fear of judgement. I can cry, I can laugh, I can smile, I can talk about my dreams, I can be silent… etc.
They won't judge me. They have never judged me. They never bothered that I was a drug addict and an Aspie. They didn't try to change me. They have never tried behaviour modification with me. They accept me as who I am and how I am. They love me unconditionally.
Dogs, I see God in them."-
Linish Balan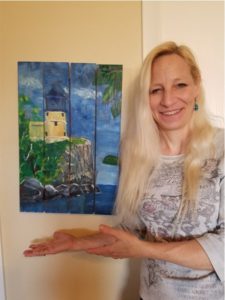 "My name is Leah Seim. I wrap myself up in every day to suit my mood. It's tweaking a sugary, old homemade waffle recipe into a multi-grain, brain food masterpiece and sneaking the healthy stuff in before my kids wake up and notice. It's the last video I take of my golden retriever rolling in the snow and acting silly, a few months prior to his life ebbing away. It's finding the beauty in a tiny plant that struggles to emerge through the rain-soaked earth from the seed I planted last fall. It's feeling God through the rustling of forested paths when I go for a walk and hearing His voice singing inside me, when the world is screeching distorted echoes in my face. It's turning up the radio, so I can dance the pain of my life away for a few minutes. It's finding the right moment to tease and encourage my friends. It's quieting my mind, so I can write my innermost feelings without letting my thoughts and defenses get in the way. It's creating five amazing beings of light and beauty that are filled with such wonder and curiosity, it inspires me to be a better Mom and want to make the world a safe place for them. It's being vulnerable enough to share my hopes, dreams and disappointments with my husband. It's the fundamental knowledge deep inside of me, that I am just as smart as the next person, even if my brain does occasionally scramble information. It's feeling a fierce joy as I fight to let everyone know that neuro-divergent people are as human and worthy of dignity as everyone else." –
Leah Seim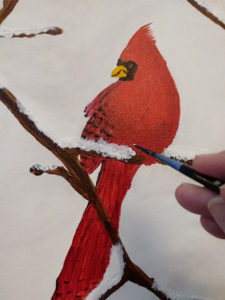 "My full name is Elizabeth though I go mostly by Libby. I started painting around 2014; while in rehab. I'd fallen and dislocated my ankle, breaking it 3 different ways. My pain both emotional and physical made me realize I needed an outlet for it all while on the road to healing. I was wheel chair bound 3 months. At first I just dibbed and dabbed with acrylic paints really not believing I would ever be able to paint. A very nice lady that worked in the recreation department where I rehabbed got me started and just kept encouraging me to find my way to paint. I still have not taken any lessons. I paint everyday just for fun."
– Elizabeth (Libby) Berti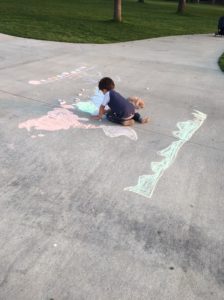 "I'm 5 years old, I love learning all by myself. I've been reading and writing since I was 2! I enjoy writing in different languages, drawing maps of the US and the world, drawing the solar systems with planets, orbits, and dwarf planets, doing math, music and typing questions on YouTube on mom's computer. I giggle and jump when learning new things, because it's so exciting! Right now my favorite things to do are making up crosswords to quiz my mom, and playing piano. I hear every day sounds and figure out the notes immediately. I write them down and combine them in different melodies. I like the sounds of the beeps of elevators, microwaves and car horns, and all the iPhone ringtones! I have my own system with notes, that I made up all by myself, using positive and negative numbers. My keyboard goes from -23 to +29 and skips zero, because I thought that would be funny. All the black keys are the next half decimal from the white ones. I love "making zero" by combining different note numbers together, like +3.5 and -3.5! My mom always tells me I'm awesome, and to keep doing what I love!" –
Lamis Jabri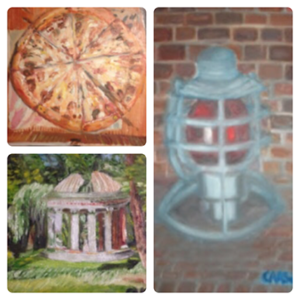 "My interest in art began at an early age. Perhaps because of my autism, I was drawn to the colors and textures of Impressionist artworks, especially those of Vincent Van Gogh. I have travelled to Amsterdam to absorb his art and the environments where he painted. I studied art and received my Associate in Fine Arts degee from Montgomery County Community College ("Montco") in Blue Bell, PA. I also have presented my artworks in a number of shows at Montco, including receiving the "1st Place Blue Ribbon" of recognition." Please visit my website here: www.cassidotiartworks.blogspot.com -Cas Sidoti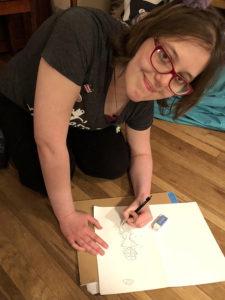 "One huge influence on my art is Japanese animation. I love experiencing something unique to a culture (besides my own) that has inspired many works of art- of all varieties worldwide. My interest an anime has improved my ability to interact with people. Whenever I'm around people close to my age, I wear a shirt with one (or several) of my favorite characters. This provides an instant connection if there are people with similar interests. My art has improved my fine motor skills. I used to struggle with many everyday tasks because of this, but learning to draw has really helped. Most importantly, art has given me a way to express things that are hard for me to express otherwise. I have so many ideas I want to share, and art has given me a way to express myself when words fail." -Katie Adams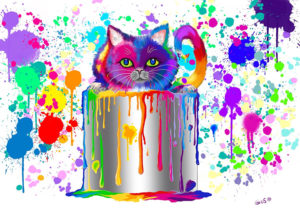 "From my earliest memories I have always had 2 main interests…animals and art…so as long as I can remember I spent the majority of my time drawing animals and watching nature shows involving wildlife. I spent hours and hours alone drawing, coloring, pen and ink, and painting. I also love to hike and photography nature and wildlife and use those images as inspiration in my artwork as well." – Nick Gustafson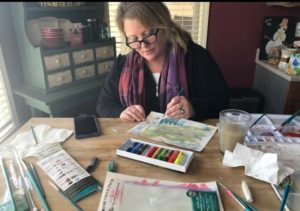 Greetings beautiful people…

I found the Art of Autism site…shuuuuweeee!

I'm hoping and praying for an outlet for my self expressive art.

I also seek advocacy and comradery.

Sincerely,

Jacqueline Zahnow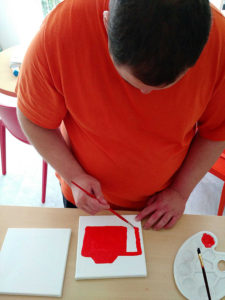 Since childhood, Charles has had extraordinary passion for images, shapes and colors. Very early,

he began to cut out photos of animals, insects, plants, vehicles, found in books. He builds phenomenal

collages, which he crumples in up and throws away. He finds images today that he prints out from the

web. When Charles discovered contemporary art in 2017, this triggered an irrepressible desire to paint:

he paints with a craze that never leaves him. Choosing his subject twenty-four hours before painting,

he will announce his plans: "Tomorrow, I will paint houses," but gives no further explanation and no

longer mentions it. He installs his equipment horizontally, on a kitchen table, on a work surface, or on

the floor; then, free from any artistic culture, he invents his own line, his way of painting, his spontan-

eity with the brush, animated solely by the pleasure of making the object appear, its colors pure and

frank, on the white surface that he particularly likes. Often, the objects he paints (the raw form of which

he draws from himself, from his memory, his own impulses, and not from a model) are made in pairs of

different colors. –

Charles Mercuriali

. More about Charles M at the following link:

https://charlesmercuriali.wixsite.com/charlesm/the-early-years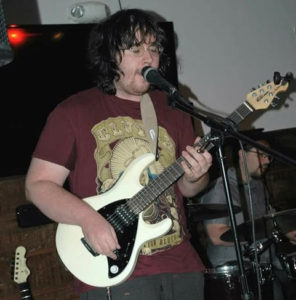 "I love playing music. When I have my electric guitar in hand and play the blues, I get in the zone and find catharsis from my worries. I'm an introvert by nature, but I feed off of the energy of collaborating with a great blues band and the energy a crowd gives back to me as I bend the notes and bare my soul and lose myself in a moment. I also love writing my own songs and developing and designing websites and creating abstract art and taking photographs in nature – all great outlets to help me express my feelings and heal myself from anything that went wrong in my past and begin to find myself moving forward in life by losing myself in the moment, to build self-confidence and self-worth, to connect to the world, and to be as productive in society as I can. I find that moving forward can be scary sometimes, but when I lose myself in a creative moment, I feel whole. Through connection to and support from a wonderful group of mentors, I've found myself growing as a person and as an artist. I am currently in the process of creating an original album of jazz and blues music and telling my story through a documentary film, and I hope to reach and inspire anyone I can. I've reached a point in my life where I'm better accepting the bad with the good and doing my best to focus on the good, and I want to try to help people do the same and be their own person in their own moments. We all deserve bliss, even when it feels like it eludes us. The arts have allowed me to healthily express and release a good deal of my sadness and anger and anxiety to begin to feel alive." -Morgan Giosa www.morgangiosa.com