The Art of Autism: Shifting Perceptions makes a great gift!
SPECIAL – Receive a 2016 Art of Autism Calendar with each book!
About the Book:
The Art of Autism: Shifting Perceptions
Hardback
8.5 x 11 inches

ISBN-10: 0983983402
ISBN-13: 978-0983983408

144 pages
Now only $30 shipped – originally $34.95
77 Visual Artists & Poets on the autism spectrum from Around the Globe
including 2012 United Nations Autism Awareness Stamp winners Seth Chwast, Trent Altman, Ryan Smoluk, and J.A. Tan
Essayists: Dr. Stephen Shore, Keri Bowers, Elaine Hall, Dr. Darold Treffert, Dr. Colin Zimbleman, Dr. Rebecca McKenzie
The Art of Autism: Shifting Perceptions explores major themes including unique abilities of some on the spectrum, the importance of family in nurturing creativity, the significance of a late diagnosis of Asperger's, the use of alternate means of communication, and collaboration. Much more than an art book, this book has stories of overcoming challenges, inspiration, and hope. Join the Art of Autism experience – become part of our movement!
ORDER NOW for only $30 (international $49.95)
Special: Receive a free Art of Autism Calendar (value $15) with each book order!
We have been having problems with Google Chrome. Please use Firefox when ordering or pay directly through paypal.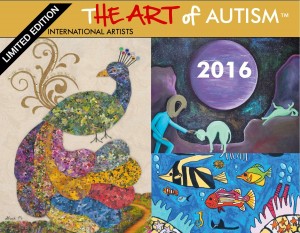 Top 6 Reasons to Buy This Book
1.  The art is sublime!

2.  This beautiful book shows another side of the autism experience
3.  The stories will enlighten and inspire
4.  The essayists will give you a better understanding on how to nurture creativity in your own child
5.  This book would make a perfect gift for teachers, therapists, grandparents, friends.
6.  Autism Awareness Month is in April; Mother's Day in May – What better gift!
Read this review
"This book is more than just about Autism. This book is about different ways to view the world, expressing emotions, and fighting a stereotype that has been generated. The stereotype that people on the spectrum are not creative, NOR do they have emotion. This book MORE than defies that myth. In fact, it clearly proves that the myth is WRONG. It is a beautiful collection of people on the spectrum who create art with such emotion.
I'm a tough art critic. I am particular to certain forms. Somehow, within these pages, I found myself saying "I like that.", over and over again. My mom and I, who don't usually agree on the same art, found ourselves liking the same pieces, with different interpretations. By the time I had finished looking through, I was so inspired to create my own works.
The truth is, The Art Of Autism: Shifting Perceptions is the best book of collective artwork I have ever seen. Never has an art book touched me in this way."