Limited time only! Two for one special. We had an over-run on our calendars and are giving one free away with each calendar ordered! Order now for this great deal!  Note: the calendars will be doubled when shipped!
This year the Art of Autism collaborated with Grant Manier of Grant's Eco-Art to create a beautiful art calendar for 2016.
This outrageously beautiful calendar is available for ORDER NOW for $18 – 2 for 1 special (includes shipping – U.S only –  international orders please email theartofautism @ gmail.com). The shopping cart may have issues with Google Chrome, we recommend you use Firefox instead or you can pay with paypal directly. $18 for 2 calendars; $36 for 4.
We were so impressed with the incredible artists who submitted their creations. Talent abounds in the autistic community!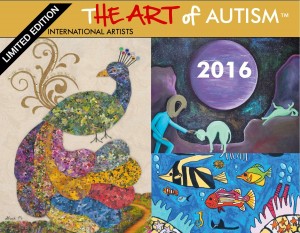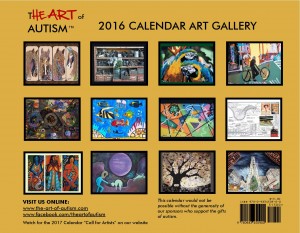 What makes this calendar different?
It's a beautiful international collection of art and stories from autistic people. Many who have shared their insights about autism.
We've included relevant dates on the calendar. Because Grant is an eco-artist we included ecology dates. See all the dates here.
A portion of the proceeds will go directly back to the artists. (distributed in March 2016).
This calendar makes a great inexpensive holiday gift for teachers, friends, relatives. Not only is it beautiful – it's educational.