2017 International Peace Day Theme: Together for Peace: Respect, Safety and Dignity for All
For the second year, The Art of Autism (AoA) is supporting International Day of Peace ~ or Peace Day through our call for peace-themed poems and art. We encourage you to share your vision, imagination and personal connection to peace through words, visual art and/or photography. Everyone who is or loves someone with autism is invited and encouraged to participate. See last year's submissions here and here.
Peace Day is observed around the world each year on September 21st. Established in 1981 by unanimous United Nations resolution, Peace Day provides a globally shared date for all humanity to commit to peace above all differences and to contribute to building a culture of peace. AoA can support this through art, music, dance, theater, poetry, film, creative writing and photography.
Whether in the role of the maker or the observer, the arts connect us to our common humanity. By sharing your thoughts, emotions and ideas about peace with creativity, you'll help give rise to individual and collective voices of our human experiences.
Submit your peaceful poems and art to The Art of Autism.
Join us to engage in arts activities centering on a "peaceful" themes. Send your original poems and peaceful art to Keri Bowers keri@normalfilms.com. We'll begin posting compilation poems & art in blogs on our website mid-August through September 2017.
Guidelines for submitting your work:
– Submit up to 3 poems. We reserve rights to edit with your prior agreement before publication
– Submit high resolution jpeg(s) of your art
– Submit a short paragraph about what your poem or art piece means to you.
– All submissions must be received by The Art of Autism by September 15, 2017
– The Art of Autism reserves the right to use editorial discretion in publishing all works
Sample email to submit:
Kimberly Gerry-Tucker's simple email to us which included an attached, high resolution image of her art, is an example of an easy-to process submission. Submissions that follow our guidelines will make it easy for AoA to compile works into the blogs to be published (periodic posts from mid-August – September 2017.)
Sample Email: "I have been working on this painting. It's still raw but has potential. I attach it here. There is an environmental theme, for example you can see children (the future of the world) crying. A mythical woman balances sun and moon. Also in the painting is a strange figure or two (mother and father earth elementals?) And look and you can see the globe with continents including Antarctica, roughly. And lastly, there is a big peace sign," Kimberly Gerry-Tucker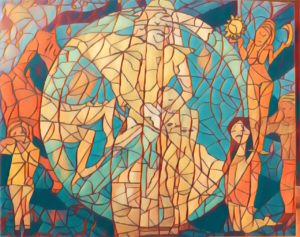 UN's Campaign for Peace Day
To learn more about the UN's campaign for Peace Day, check out their website. They have lists of many international activities you can participate in. Getting involved in positive, socially responsible events is a great (and free) way to grow life and social skills in autism. #jointogether

AoA looks forward to supporting inner and outer peace with a ripple effect around the world.
pēs/ to you ~ with love & peace, The Art of Autism