June 26, 2012
Contact Debra Hosseini at theartofautism@gmail.com or phone (805) 220-6460 for high resolution images, PDF or hard copy of book available for review. Artists and author available for interviews.
The Art of Autism, a collaborative project, has released it's new book The Art of Autism: Shifting Perceptions. This inspired book compiled by Debra Hosseini and edited by Keri Bowers, features 77 artists and poets on the autism spectrum. The Art of Autism: Shifting Perceptions is not only a book of art and poetry; it is a book of stories of love, determination, and faith. Join the families featured in the book who celebrate the gifts of their children. Learn about the struggles of adults with Aspergers syndrome. The book will take you on an unimaginable journey through dark times and happy times. Essayists who contributed to the book include Dr. Stephen Shore, Elaine Hall of the Miracle Project, Dr. Darold Treffert, expert on Savant Syndrome, and psychologists Dr. Colin Zimbleman and Dr. Rebecca McKenzie.
Seven Canadians participated in this compilation. Ryan Smoluk from Winnipeg, Manitoba and J. A. Tan from Vancouver, British Columbia have been honored in April 2012 with United Nations Autism Awareness stamps. Isabell Doucette from Vancouver, British Columbia is the 2011 Autistically Natural poetry award recipient. Pamela Williamson from Victoria, British Columbia, has a fascination with birds and animals. She has created thousands of images, some of which she shared in this book. Nora Blansett from New Minas, Nova Scotia is a poet and an artist. She shares her experience of coming out of the "autistic closet' in the Art of Autism: Shifting Perceptions. Gabriel Preboy from Toronto, Ontario has been painting his fascinations since age two. Carly Hatton from Gananoque, Ontario, recently illustrated the book Limericks from the Animal Kingdom.
The Art of Autism: Shifting Perceptions coffee table book is 144 pages, full-color, featuring 77 artists on the autism spectrum and essayists by experts in the field.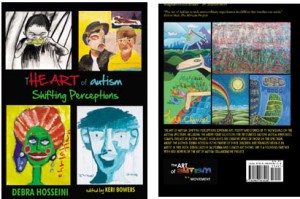 11 x 8.5 inches
ISBN 978-0-9839834-0-8
$41.95 Canadian
Distributed by ParentBooks
www.parentbooks.ca
1-800-209-9182