The Art of Autism is grateful for the last two spectacular years. As we continue to grow and evolve, we would like to bring all who read this an awareness of our accomplishments in the last year and goals for the future. The main focus is  shifting consciousness about the gifts of autism, collaborating with like-minded organizations, and most importantly creating opportunities for creative people on the spectrum. If you have ideas and can assist us please feel free to contact us at theartofautism@gmail.com and please donate to our cause. For only a $25 donation, you can receive a free poster; a $100 donation will get you a free book!
Looking Back:
Accomplishments in the year 2012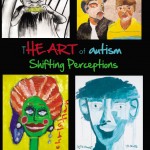 The Art of Autism trademark was acquired.
The Art of Autism website www.the-art-of-autism increased from 18 million to 3 million (Alexa ranking). We set up a mobile blog which displays our blog more efficiently for Ipad and Iphone users. We set up an Aweber account for emails (this hasn't been implemented properly yet).

Visit this page for facts about our organization.
The database of participating artists increased from about 120 to 250 participating artists, poets, and musicians.

We currently have 17 countries represented in our collaborative.
 We received much positive publicity, including a front page article by the Ventura County Reporter which had a 6 page article featuring the exhibit and artists on the autism spectrum at the Westside Art Walk. Over 1,000 people attended The Art of Autism exhibit.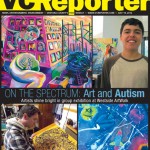 The Art of Autism had well-attended art exhibits in Thousand Oaks, Carpinteria, Ojai, Ventura, Solvang, Houston and Windsor, Canada. We collaborated with organizations for exhibits in Santa Barbara, CA and Hong Kong, China.
We introduced guest bloggers on the Art of Autism website. Thank you Jackie Marquette for your wonderful blog.  This will become a regular feature. We also featured artists.
We initiated fiscal sponsorship with  an organization dedicated to nurturing the gifts of autism. This means that we may use their 501c3 for fundraising. We are working with an attorney to finalize this process.
We partnered with the above organization to write a grant for an art museum dedicated to art work of autistic people.
We assembled a talented advisory board who we hope will take us to the next level in 2013.
We continued our newsletter of opportunities which goes out to 250 artists and is posted on our website. Through this newsletter four of our artists received United Nation's commemorative stamp honors.
Joanne Lara/Barry Shils of Autism Movement Therapy screened Generation A: Portraits of Autism and the Arts at the Curious Cup in November and are holding a graphic art 'place-card competition' open to artists on the spectrum.
Debra Hosseini partnered with Linda Anderson for the new biweekly blogtalk radio show "Positively Autistic: Celebrate Autism" which features organizations who are making a difference in the lives of autistic people. She also published articles in the Autism File magazine, Family Circle blog, and had a featured article in a new book "The Sacred Shift: Co Creating Your Future." She was on many radio shows. She made presentation at universities, art organizations and autism organizations.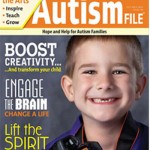 Keri Bowers made successful presentations in Pennsylvania, Thousand Oaks, Agoura Hills, New York City and Windsor, Canada. She continues to provide art direction to the Agoura Hills Friendship Circle Sunday Circle and to facilitate Art of Autism transition workshops sponsored by Pause4Kids.
We continue to add to our awesome resource directory of galleries, studios, and organizations that support artists on the spectrum; and to our online galleries of incredible art and poetry.
Looking Forward
Goals for 2013-2014
 Increase participation at our events.
Improve website and social media campaign. Enhancements to the website will include improving SEO; creating membership; upload capability of art for members; search capability; an online store of prints and cards; and possibly a forum for people to share.
Increase funding and sponsorships. Funding is needed for artists to properly frame and ship their art; travel expenses; to improve website functionality and SEO; and for clerical, accounting and database support.
Create an Art of Autism calendar for 2014. Seek sponsorships for this calendar.
Increase speaking engagements for Debra and Keri so they can have an income.
Increase the number of collaborations among artists and create a mentor database.
Translation of promotional material into Spanish
Hey, we dream big! We would like to see a billboard campaign across the country, displaying the gifts of those on the spectrum!
Events planned in 2013
The Art of Autism is partnering with Paper Clouds for Valentine t-shirts, Feb 5 – 19
Art Exhibit – Mr. Musichead – last 2 weeks of March, Hollywood
Art Exhibit – April, Kennedy Vanderbilt Center, Nashville, Regional artists
Art Exhibit – April-May, The Good Purpose Gallery, The Berkshires
Art Exhibit – April, Museum of Cultural Arts, Houston. Partnering with Dr. Laurence Becker and Julie Coy of EcoArtism.
Art Exhibit – May, The Curious Cup, Carpinteria. We are talking about partnering with Harambee Arts for this exhibit (Harambee Arts has art work from autistic artists in Kenya).
Art Exhibit – October, The Curious Cup, Carpinteria
The Art of Autism is discussing having a musical benefit in Los Angeles  and having combined benefits with Autism Movement Therapy featuring advisory board member Joanne Lara and Barry Shil's new documentary Generation A: Profiles of Artists and Autism and partnering with Eco-Artism and the Celebrate Autism Foundation for art exhibits.
Thank you for your support!
Debra Hosseini, Co-Founder, The Art of Autism Collaborative
Creating Spaces and Places for Artists on the Spectrum to Be Seen and Heard