by Debra Hosseini
We live in interesting times. Many years ago in what seems to be a different lifetime I was a programmer/systems analyst. After that job dried up, I wondered what I would do for a career.
Over the last fifteen years, it seems I have followed my autistic child Kevin's lead – writing two books on autism, becoming an art curator, project manager, grant writer, blogger, storyteller, talk-show radio host, conference speaker, and my new vocation, I'm proud to say is a newspaper content curator. Who would've thunk?
I can easily amuse myself trying different things for hours. A few of them work. Most of them don't. Last week I decided to fool around with the product Paper.li and compose my own newspaper. I'd noticed so many autism Paper.li newspapers out there that weren't addressing content that was relevant to what I was doing.
In fact, when you look at all the papers, most of them post the same stories. This is because the papers are generated from twitter and facebook feeds. So whatever is popular seems to come up the most.
Kevin used to scream when in traffic, "I'm stuck." Perusing through the content on the information highway, I felt a little stuck. Let it be known, that I don't watch the news and have no interest in sensational stories.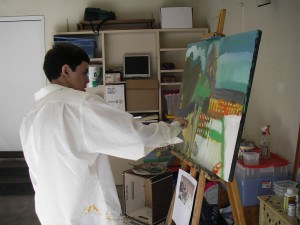 That being said, I decided to generate a paper that focused on neurodiversity, creativity, the arts, with an emphasis on mental illness and autism. As many of you know, Kevin is autistic and on the schizophrenic spectrum. He is an artist as well.
So as Kevin would say "what got to happen" was last Monday I was fooling around with Paper.li and happened to magically create a newspaper. Actually, I created four newspapers by mistake. Then I started promoting them with social media. What I didn't know was that I was sending links to the wrong newspaper out. So I quickly deleted three of them and on Tuesday launched what I called the Art of #Autism Daily.
I tweeted one of my heros "the grandfather of neurodiversity" Oliver Sacks. I also tweeted Dr. Thomas Armstrong, whose authored 15 books on neurodiversity. To my amazement and delight, Oliver Sacks that day shared our newspaper on his facebook page of over 50,000 fans as well as on his twitter page. The paper immediately started generating shares and subscriptions at an incredible rate getting us the on Paper.li "Currently Buzzing" list that day.
I don't know what algorithm Paper.li uses to formulate that list. I do know that the Art of #Autism daily paper has been on it all week. I actually emailed the Swiss-based company asking them about their algorithm and other questions for this article. I haven't received a reply yet. All I know is we're buzzing with "The #Cigar Daily" and "BBQ Recipes Ideas." We're on the high road now!
On Friday, Dr. Armstrong wrote a blog endorsing our e-paper. Thank you Dr. Armstrong.
I then decided to upgrade and pay the $9.00 per month so that I can make the paper look more professional. I tried to put in my own header but it didn't work. I have to customize my domain to do that.
What makes this paper different? Being the analyst I am, I went to the Paper.li newsstand and typed in "autism." At least 1,000 newspapers came up on the list. Man oh Man. I looked at the top four on the list. Three of them are titled autism but don't seem to have any relevant nor pertinent content to autism. You may as well be reading the CNN news feed.
Then I went to the tab that said "Friends papers." OMG, most of my "friends" seem to have their own paper. I came to a profound realization there can be as many papers produced as people on the planet!
Looking further into Paper.li, I discovered there were all types of autism relevant newspapers. Some focus on diet and biomedical interventions, others on special education and advocacy. There are businesses such as the Autism Friendly Chiropractor, and organizations such as the Watson Institute.
There are about 10 newspapers that have the same picture of Temple Grandin as their icon.
That kinda confused me. Why were they all the same picture? Is Paper.li automatically placing a picture for these groups or did they all pick the same picture independently. Or is this one group with 10 newspapers. Another repeating icon was the mouse.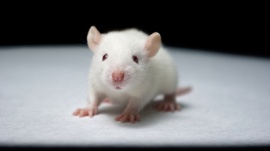 What's that about?
From reading about curating, I found that most successful e-papers have their own content. That's a plus for our paper because we have lots of content.
Location, location, location sells real estate. In the blogosphere it's about content, content, content.
Some of the shared content seems to be coming from some prolific bloggers. Rob Gorski of Lost and Tired definitely dominates the shares. Rob is a dad and seems to have the Information Highway wired.
So what are my recommendations. These are in no specific order but of course I'll place ours first.
#1 The Art of #Autism Daily. We have had over 1,100 shares in less than a week. The paper focuses on neurodiversity, creativity, art, and autism and mental illness. There are six sources I'm using regularly for this newspaper – Oliver Sacks, Dr. Thomas Armstrong, Kathleen Tehrani of Autism Brainstorm, Judy Endow who is autistic herself with profound observations, Cloud-burst.TV and the Art of Autism blogs. I'm also including The Idiom of The Week from Unintentional Humor and art from our facebook page.
#2 The #autism Daily. This is the paper.li generated newspaper from the users on twitter who use the #autism hashtag. From this newspaper you can see what is popular. Of course its only limited to those that actually use the hashtag.
#3 The Autism File Global News. This daily is from the organization that produces The Autism File magazine. It is a well-rounded look at autism. The Autism File is one of the only magazines I read that consistently has articles about the arts. Something I'm personally interested in. For those who used to receive the hard copy of the magazine, that has been discontinued. It's digital now. In the next issue Christian Early one of the artists who participates in The Art of Autism will be featured.
#4 The Autism Daily News curated by Arlene Martell. This is a balanced paper with loads of great information. Arlene also curates a paper called The Ketogenic Diet Daily News. Arlene is the author of Getting Adam Back, A Mother's Triumph Over Epilepsy and Austim and the publisher of EpilepsyMoms.com.
#5 The Aspergers & Autism Daily curated by autistic adult Lynne Soroya. Lynne is a blogger for Psychology Today and the author of Living Independently on the Autism Spectrum.
I've bumped into some other e-papers that aren't specific to autism but are great references – The #Edchat Daily has lots of great articles relating to education. This is another paper.li site that focuses on the hashtag #edchat.
Other papers of interest are Psychology Daily curated by Therapists.com, Autism and Music Therapy Weekly, The Brain Gazette about all things neuroscience, Living & Loving with Down Syndrome curated by Eliana Tardio, who writes for Babble.com and is a top 100 Babble parent blogger. From what I can see, this is the only disability paper featured on the "Staff Picks" at Paper.li.
Which brings me to the question, is there a reason why there aren't many "Staff Picks" related to disabilities on Paper.li? Paper.li seems to be very progressive with trainings on nonprofits, etc. I emailed them about that. Let's see if they answer.
In future blogs I would like to focus on autistic people who produce their own newspapers. If you are autistic and have a blog can you please email me at theartofautism@gmail.com.