3/13/14 Update. Kevin has trouble on the weekends and is homesick. He continues to obsess about things not being fair his Junior year in high school. I found out yesterday that his special education teacher who was put on administrative leave for the complaint I made in 2012 (his Junior year) encouraged students in her class to walk out on the last day of school to support her. Kevin was left alone in the class with the substitute teacher. A parent drove the students to the educator's home for a party during class hours. The teacher was on administrative leave at the time while the District investigated a complaint of harassment of Kevin.
2/28/14 Update. Kevin has moved to a residential program in Ohio where he is doing well. He has a job where he works three days a week and attends daily classes. He's in a supportive, loving environment. He's being flown back to California in time for The Autism Chalk Festival and for a court date of April 14. Santa Barbara Superior Court judge Colleen Sterne has urged all parties to settle. The District Attorney did not pursue criminal charges based on the Sheriff's recommendation. The teacher pursued a civil restraining order and completed restraining order forms on behalf of another Special Education student in her class. This will be Kevin's third court appearance with this educator (two continuances prior). The first appearance, the educator brought her entire transition class and three parents of students to court even though a substitute teacher was hired by the District (she doesn't seem to realize this is bullying behavior). The court "field trip" to view her civil case was not authorized by Carpinteria Unified School District. A private investigator has been retained by the School District's legal counsel to investigate this matter. Kevin manifests symptoms of PTSD due to exclusion, isolation and being singled out in negative ways in this educator's class. Kevin is highly sensitive to his environment and the moods of others, as many autistic people are. I've talked to a parent who say I'm being portrayed as "The Anti-christ" and Kevin's teacher "the Angel." Our family feels that many of Kevin's problems now are manifestations of the hostility created in his special education class (among parents, aides, and other educators). Unfortunately, Kevin's negative experience with this educator isn't an isolated case.
… Thanks to educators, parents, Autistic people and professionals across the globe who email and call me with support for Kevin. Thanks for all your stories.
… And to the parent or special educator who continues to spam this website and won't identify herself, Don't blame me. I didn't start this. I only started posting when it was apparent that the educator spread rumors across the entire town about Kevin. Kevin had NO VOICE in the School System. Even though I requested to be at a District-wide meeting about a security threat and an autistic student (Kevin), I was not invited to attend. It's highly unusual for a Special Educator to place a restraining order on a student and complete restraining order papers on behalf of another Special Needs student. Especially when she's never been directly threatened or hit by that student… Maybe this has something to do with the complaint I made in 2012 when she was put on administrative leave while an investigation was made of her harassment of Kevin.
Press Release
December 23, 2013
Debra Hosseini, Carpinteria resident, was outraged yesterday when her son Kevin Hosseini, 19, received a restraining order from the Sheriff's Office. The Restraining Order was on behalf of his Special Education teacher, a special education aide, and another student in her Special Education transition class.
The teacher is protected by the Carpinteria Teacher's Union. Kevin Hosseini has exhibited no aggression to this teacher in the past.
As a consequence of her actions, the entire class has been alienated from Kevin. A mom of one of the students in the class sent a letter to the School Board stating that if Kevin stabbed his teacher, her son would defend the teacher.
Kevin attends the SEALS transition program for young adults with developmental disabilities. It's a program which teaches life skills under the Special Education Department of Carpinteria Unified School District. This is the second year of the program.
Kevin is Autistic. People with autism often say whatever comes into their head. They have no filter. It is difficult for autistic people to lie. They often repeat things seen on television. Kevin has never directly threatened the teacher or aide. The threat was made indirectly when Kevin experienced a difficult medication change while at Aurora Vista Del Mar hospital. On the day Kevin went into the hospital his teacher expressed surprise sending an email saying how well Kevin was doing in the SEALS program this year.
Students with developmental disabilities are protected under federal laws. Kevin visited his psychiatrist the day after his release. He expressed pleasure at Kevin's progress.
Kevin should have been allowed to return to school, but instead was put on "district instruction," with an aide Eric.
Eric decided to stand by Kevin when Special Education teacher, another special educator and her aide took out an Emergency Protection Order. Kevin has been under an E.P.O. for the last week.
In addition, Kevin was banned from walking on the Middle School or High School campus.
The Middle School teacher told his teachers and staff to call 911 if Kevin goes on the campus. Kevin was banned from the High School campus as well.
Kevin can't walk many of the streets in his home community.
In the last week, Special Education teacher filed a complaint with Santa Barbara City College, which suspended Kevin from attending his classes. Kevin and his aide Eric, were told to leave campus on Monday, by the Superintendent.
Kevin had to make special arrangements with Santa Barbara City College to complete his P.E. class and take his College Success final. Kevin is the only student in the SEALS program to take an academic class. He talked to the Dean of Student's about his suspension for "bad behavior" here.
On Thursday, Kevin was told he could not attend his regular job at Giovanni's Pizza. Debra had to call the Sheriff's office to arrange Kevin to attend his job.
The Sheriff who served Kevin said, "The Captain will stand behind Kevin in court. This woman is way out of line."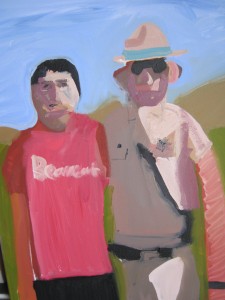 Debra Hosseini thinks that his teacher has taken advantage of Kevin's breakdown to avenge a complaint she made about her 18 months ago. Debra also complained when Kevin wrote this in his journal.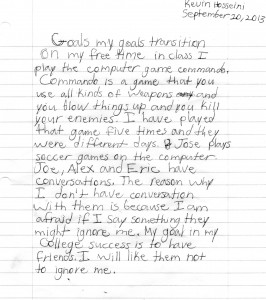 "For obvious reasons we don't allow Kevin to play violent video games," Debra says.
The Hosseini family feels isolated in Carpinteria. Debra feels that this one teacher has turned the entire community against her family and Kevin.
"I'm very disappointed, even people who I thought were Kevin's friends have turned their back on him and believe he is dangerous. It seems many people lack compassion."
Kevin has been doing better than ever. He finished his College Success class with a "B."
"Mom, how long do I have to stay away from them?" Kevin asks. "Can I talk to them when I'm twenty-five?"
Debra wrote a blog about how to explain a restraining order to your Autistic child.
"We haven't told Kevin very much about this, "Debra says. We don't want him to feel bad about his disability.
Debra's emails to the School Board, Principals, Superintendent, school psychologist, and Special Education Director have mostly gone unanswered.
"I know they are instructed to do this by their attorneys," Debra says. "When you close down communication with parents it makes it a battle instead of cooperation. This wastes so much time, energy, and money."
"I want Kevin to reside in a loving, compassionate community which embraces differences," Debra says. Debra is contemplating moving out of Carpinteria herself. "I never knew so many people hated us," she said.
In the meantime, Kevin and his aide Eric, work on life skills two hours a day at a mobile park recreation room.
"I'm disappointed that they didn't give him the same hours as the other students because his dad and I have had to rearrange our schedule so someone is with Kevin the rest of the day."
Debra says, "I don't know why these teachers are so afraid. Kevin never even talks about these people."
At this point, Debra thinks Kevin needs a restraining order from his Special Education teacher.
Debra has a solution for the School District's dilemma about her son.
Instead of spending money on expensive attorneys defending the lawsuit against the School District and the Teacher's Union, spend the money on the best autism program in the country.
"This would take a radical change in School District culture," Debra says.
"I know there are many compassionate teachers in the School District, but there are many teachers who frankly shouldn't be teaching. They are all defended by the Carpinteria School Teacher's Union. They allowed this to happen to my son."
Debra would like to see the School District focus on good programming for students instead of fighting parents, especially parents of students like Kevin. Kevin's best years were when he was in the Carpinteria Family School, a parent-teacher-child cooperative. "There was an equal share of power at that school and Kevin thrived."
Debra quit her job when Kevin was in second grade to help Kevin and people like him.
Inclusion of children like Kevin, brings compassion to our children. Kevin's entire Senior class gave him a standing ovation when he graduated last June.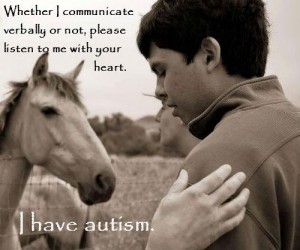 Photo Courtesy of Amy May Hidden Wings and Erin Clemens.
The Warrior is Carpinteria's mascot.
The true meaning of a warrior is compassion.
Debra has set up a facebook page for Kevin End Autistic Discrimination.
Kevin is a talented artist who has art on display at the State Russian Museum in St. Petersburg. Kevin's website is www.kevingallery.com
"Maybe Kevin is here to turn fear into compassion," Debra says. I'm so proud of Kevin. He struggles so hard every day."
Debra is founder of The Art of Autism www.the-art-of-autism.com a collaborative of over 300 artists, poets, entertainers, and authors on the autism spectrum. The Art of Autism focuses on the gifts of people on the autism spectrum and has exhibits and presentations throughout the United States and Canada.