"I have traveled to 56 countries and lived in 13. I feel comfortable in foreign places because I am recognized as a foreigner and as a foreigner—I fit in. Having high functioning autism makes being a foreigner a place of calmness for me."
By Ron Sandison
Paul Horstead is a Deputy Head master at O Castro British School in Pontevedra, Spain. He supervises seventeen members of a teaching staff and coordinates all aspects of the secondary school. During his seventeen year career in teaching he has traveled extensively across six continents and spoken to large audiences on education.
When Paul was younger, he experienced difficulty in social situations and felt rejected by his peers. Paul shares, "My childhood was hectic and filled with confusing messages from adults and peers. I never had any real friends and the ones I did make soon stepped away; I usually ended up playing with younger children. School was a frustrating place, and I often just played truant! I was good at sports but had problems with unjust situations. I was bullied and went through horrible times! I was nicknamed cry baby."
Autism caused Paul to experience sensory issues. He hated to be touched and would blow on the spot where someone had touched him. Paul could not stand dirty shoes. If a peer or a stranger had muddy shoes, Paul's OCD immediately kicked in and he would attempted to clean the dirty shoes, this got him into all sorts of trouble.
During his childhood for fun Paul would play Subbuteo by himself and when he was older collected football programs studying which players played for what club, names of grounds, nicknames and badges of the teams. He had an amazing ability to recall information and statistics. As a teenager, Paul loved running. He enjoyed it so much that he would run for hours, forgetting to turn back, and would need to call his dad to pick him up.
He was able to overcome sensory issues by the help of his sister and through traveling. Paul shares, "My sister understood what calmed me down, how to talk to me, and when not to talk! Traveling is my comfort in life, my escape from the reality of living in a life of what others see the norm!"
Finally at age thirty Paul was diagnosed with Asperger's/high-functioning autism and life began to make sense. "Looking back, some of the early signs, I had autism included my response to the touch of others, not understanding rule changes to kids' games in the playground and easily crying with unjust situation such as a ref making the wrong call! And shoes, dirty shoes still bother me!"
Paul's advice for parents whose child was recently diagnosed with autism, "Join support groups in the area, use the internet and read about the diagnosis. Do not think things will just be okay, you need to make it okay!"
Paul's journey to becoming a Deputy Head master was both challenging and rewarding. "When I was a school caretaker the Headmaster noticed I was good and strong around children and asked me to think about teaching. I explained to him, I have little educational qualifications, and basically school was a waste of time for me. He asked me to take three short tests in English, math and science.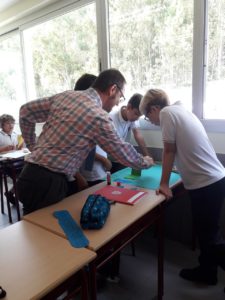 "The results were discouraging—I did fine with science and math but awful in English due to dyslexia. After the results of the testing, the headmaster told me to come early to the school each day, to do my morning chores, then attended a Math, English and Science class in year 7…
"I was the teacher's worse nightmare. I never stopped asking questions. The younger kids in the class thought it was cool having a 28-year old student in class. Over the course of the year I progressed to year 9 with total encouragement from the staff and kids who just thought it was quirky having their caretaker in class. At the end of the year I retook the tests and scored in the 90%'s except for English!!! I then applied for a mature student grant and a teaching course for PE and Science. After traveling to 56 countries here I am a Deputy Head master of a British Secondary school in Spain."
Paul's advice for students with autism, "Don't be scared to talk to people about your condition! Ask for the lecture notes beforehand and set up regular meetings with your tutors!"
***
Ron Sandison works full time in the medical field and is a professor of theology at Destiny School of Ministry. He is a Board Member for the Art of Autism, and an advisory board member of Autism Society Faith Initiative of Autism Society of America. Sandison has a Master of Divinity from Oral Roberts University and is the author of A Parent's Guide to Autism: Practical Advice. Biblical Wisdom published by Charisma House. He has memorized over 10,000 Scriptures including 22 complete books of the New Testament and over 5,000 quotes.
He frequently guest speaks at colleges, conferences, autism centers, and churches. Ron and his wife, Kristen, reside in Rochester Hills, MI, with a baby daughter, Makayla Marie born on March 20, 2016. You can contact Ron at his website http://www.spectruminclusion.com or email him at sandison456@hotmail.com