After many years of telling stories about people on the autism spectrum, I've began to tell my stories about Kevin and his unique struggles.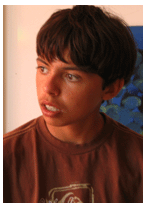 As with all my children, I fell deeply in love with my last child, Kevin. He was born, when I was older – 36. Kevin developed asthma as an infant and was put on a respiratory. I used to lay in bed with him while he wheezed on the respirator. We spent many hours in emergency rooms. I would not sleep at night because I thought he may take his final breadth.
At 18 months, Kevin began early intervention services for children who are 50 percent or more delayed in language. At age 2, we moved from Bakersfield to Carpinteria and he attended Lou Grant Parent Child Workshop. I have always had trouble fitting in and felt the outsider. It made it even more difficult that Kevin didn't fit in. I watched parents talk and play dates being made. Kevin never had one play date.
Ellen Stoddard, the Director of Lou Grant, after about four months told me "Kevin may not belong here. He is always knocking over the other kid's toys. And he doesn't talk to any of the other children." Ellen is one of the biggest supporters of Kevin!
Yet I was devastated. This was my first attempt to be part of the Carpinteria Community and Kevin was a reject! He made no friends, was invited to no birthday parties, and instead rode a little yellow bus miles away to a pre-school, which provided Special Education services – Discoveries in Goleta. We were elated he was invited to two birthday parties in the three years he was at Discoveries! That was the highlight of Kevin's social years.
At age three, the diagnosis of Autism came. Will he outgrow it? What will happen to Kevin?
The neurologist said that Kevin would most likely end up institutionalized.
We were crushed. I cried for weeks…
We spent thousands of hours in therapies developing Kevin's interests in art, music, and spending time at Carpinteria City beach programs. Kevin loved to kayak and surf! As all children, Kevin and our family experience high and low years. Except for children like Kevin, the highs are so much appreciated and the lows are devastating and require hours and hours of research about unpleasant things related to legalities, therapies, and protecting your child from people who may not always have their best interests.
Kevin bloomed and did so well at the Carpinteria Family School.
Kevin has a gift –at age 9 he discovered a passion for art! This is not evident when he attends school but is fostered by people who have been trained to help him develop his art skills. That has transformed an ever-shifting world of unease into a world that people like Kevin who have a talent can be recognized. This is one thing Kevin can do well and has pride in.
Kevin, age 19, still can't tie his shoes.
Our family has witnessed Kevin develop skills, and then lose skills. It seems it's always two steps forward and one step back. Sometimes it's five steps back as when he came home in middle school and lost all his language and went to bed.
"What's wrong with Kevin?" came the emails from the Eric Lewis, Kevin's middle school teacher.
That is when he received his diagnosis of schizo-affective disorder.
Throughout our journey, Kevin has always been Kevin. He's a little ornery, very difficult, sometimes profoundly insightful and an agitator. This is his personality and our family respects Kevin for his unique personality. It's not an easy personality. But Kevin has a great sense of humor and often profound insights.
The other day he looked at a photograph from when he was two. I was holding him. He started crying.
"Why are you crying?" I asked.
He didn't respond.
Later that day, he asked "Do you know why I was crying mom?"
"Why, Kevin?"
"Because you love me so much."
Kevin's favorite things are Mariachi and Turkish music, Mexican food, and travelling to fun places like Mexico!
Kevin, throughout his entire life at Carpinteria School District ,was never invited to a birthday party, besides the person he considers his best friend Ben Watts. Ben and Kevin don't ever talk, but Kevin thinks they are "best friends." I don't know what Ben thinks.
I always thought I was doing the right thing for my child. Unfortunately, in the last month I've made some of the most serious errors in judgment in Kevin's life.
A few weeks ago Kevin who is now an adult checked himself into a psychiatric hospital. As his mom and primary advocate, these are the mistakes I made:
#1 – I told Kevin to tell the truth. Tell the psychiatrist every thought in your mind. WRONG!
#2 – After Kevin was admitted on Day 1, I wasn't there to check that evening to check that his meds were delivered correctly. After all, he's an adult – right? He missed 7 doses over two days of his primary medication and all his medications were compromised.
#3 – I listened to a person who encouraged me to advocate Kevin to get off of the prescription medication Clonadine and switch it to Inderal (both medications reduce adrenaline but Clondaine is an alpha blocker and inderal is a beta blocker). The psychiatrist tried this with disastrous results. Kevin started raging and called out many names.
#4 I didn't realize what the Tarasoff Law was and how that violated patient confidentiality. I was horrified when I found out that Kevin's rants went to local law enforcement and to the people he named in the psychiatric hospital.
#5 – I allowed Kevin to sign a HIPPA release which violated his confidentiality to the school district.
This led to a stream of unfortunate events which included four people placing emergency restraining orders on Kevin, Kevin being denied access to the high school, middle school, transition program, City College, and most of his small town of Carpinteria.. He can't even walk to my home after school.
This has been a heart-breaking experience for our family. I, for the first time, feel that I need to move Kevin away from Carpinteria for him to be safe.
Kevin has multiple diagnoses including mental retardation, autism, shizo-affective disorder, seizure disorder. He's profoundly disabled. Every day is a new day. Yet it is always wonderful and inspirational. Especially when people gather together and support diversity. This has become my life-long passion.
I went to the courthouse yesterday to get conservatorship papers for Kevin. I didn't know how to complete them and went to Legal Aid. on Figueroa. This was after I went to the Sheriff's Office As I told my story, I didn't know where to begin. Well, I need to know how to conserve my child – is it limited or permanent? And do I need an attorney to defend him against restraining orders? And
Now Kevin as usual walks his own path. He's not alone. He has family and many helpers and angels who are always there! He came out of the hospital healthy. Today, beecause Kevin is banned from Carpinteria HIgh School, Carpinteria Middle School, Santa Barbara City College, and most streets in Carpinteria., Kevin is isolated.
The Sheriff says he's a low risk. His family knows this. No one else seems to want to talk to Kevin.
I'm so happy Kevin seems to be oblivious. But is he?