By Keri Bowers and Debra Muzikar
As part of the Art of Autism California Road Trip in May, The Art of Autism honored people who are unsung heroes in California. As we traveled up and down the state we had the opportunity to stop at people's homes and their businesses. This is the second of a three-part blog as we recognize people in five different locations in California. Prior blogs honored recipients in San Diego County and Ventura and Santa Barbara Counties.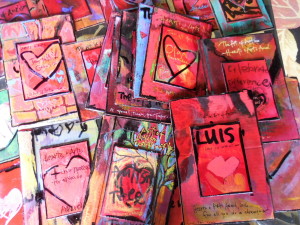 Each award recipient was given a hand-made award from art work of children on the autism spectrum. The art work was a collaborative project with students from the Conejo Valley Friendship Circle in Agoura. Keri Bowers who is an art instructor for the Friendship Circle had the children create the art in classes over several months time. She then personalized the art for each recipient.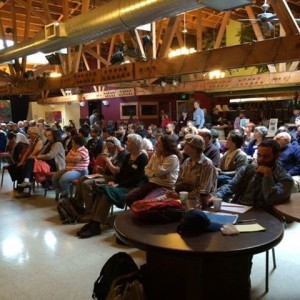 Below are Hearts and Arts award recipients who represent innovative entities in the Bay Area and Sacramento. We want to thank AASCEND and the ARC of San Francisco for providing us a beautiful venue in downtown San Francisco to screen the film Normal People Scare Me Too.
In Sacramento, we were honored to have The Art of Autism on the marquee on the floor of the California Senate. Thanks to Senator Joel Anderson's office we received a congressional tour, Kevin Mount accepted an award on the congressional floor, and we were treated to lunch by Kevin's parents where we were able to view Kevin's beautiful art.
Sacramento Recipients
Senator Joel Anderson, Senator 38th Senate District
After four years of service in the State Assembly, Senator Joel Anderson was elected in 2010 to represent the citizens of San Diego and Riverside Counties in the thirty-sixth Senate district. In 2014, he was re-elected to office, representing the thirty-eighth Senate district. Senator Anderson was recognized with the 2007 "San Diego Psychiatric Society Legislative Award" for his "interest in, sensitivity to, and knowledge of mental health issues." Senator Joel Anderson is a great example of how a conservative politician can embrace compassionate values.
Kevin Mount, artist, actor, and singer.
Kevin Mount is 22-years old and resides in Sacramento, California. Art and music are Kevin's passions. Kevin has exhibited in many venues including galleries in Sacramento. His art has even been showcased in a museum. Kevin has donated his art to benefit many organizations.
Marty Omoto, California Disability Community Action Network
Marty Omoto is Executive Director ofthe California Disability Community Action Network, a non-partisan link to thousands of Californians with developmental and other disabilities, people with traumatic brain injuries, the blind, the deaf, their families, community organizations and providers, direct care, homecare and other workers, and other advocates to provide information on state and local public policy issues
Bay Area Recipients
Greg Yates, AASCEND Co-Chair
Greg is a writer, handyman, zen student, creator and runs the blog autismtheory.org. He is an adult on the Autism Spectrum.
Anlor Davin, author of "Being Seen, A Memoir about Me"
Anlor Davin was diagnosed at age 46, a life-changing, and life-saving, event she traces to her Zen practice of the years preceding. Anlor is an immigrant, born in France in 1964. During Anlor's childhood her native France was in the grip of oppressive and now discredited theories about autism. Anlor instinctively knew she had to flee France in order to survive. Upon arrival to the Unites States in 1987, Anlor lived in Chicago, Illinois, were she married and had a son. Anlor was formally diagnosed in 2010.

Michael Bernick, author of "The Autism Job Club"
Michael is a Milken Institute Fellow for employment policy, an attorney, and parent of four children. Michael's book "The Autism Job Club" focuses on job creation and placement strategies for adults on the autism spectrum in the Bay Area.
Camilla Bixler, AASCEND Co-Chair
Camilla is a member of the City College of San Francisco faculty. She is a Support for Families honoree; San Francisco Mayor's Office of Disability honoree; and Star Academy founding board member. She is also a parent.
Pamela Buttery, AASCEND Board Member
Pamela Buttery is a Real estate developer. She is a 20-year board member of CASA, Court Appointed Special Advocates. She is also a parent.
Hester Wagner, Inclusion Films
Hester Wagner earned her B.A. in Theatre Arts from The University of the South in Sewanee (TN) and her M.A. in Educational Theatre from NYU. She has taught theatre in New York, Los Angeles, and Portland; and in prisons in New York and Ireland.
Hester combined her passions when she began working with Joey Travolta and Inclusion Films at film camps teaching youth with autism about filmmaking in 2008.
In 2013, Inclusion partnered with the nonprofit organization Futures Explored to bring the adult vocational film program (Practical Film and Media Workshop) to Livermore and Sacramento. Hester is currently the Program Director for the workshops and the Northern California summer camp at St Mary's College. The workshops also operate Futures Films, a fullservice film production company which specializes in promotional and advocacy pieces for health and social services agencies, and nonprofits.
The Arc San Francisco
The mission of The Arc San Francisco is to serve people with intellectual and developmental disabilities by promoting self-determination, dignity and quality of life. The ARC of San Francisco has a long history (from 1951) you can read here.
Francisco Valenzuela, Director of Community and Government Relations, San Andreas Regional Center
Director of Community & Government Relations for San Andreas Regional Center for the past 16 years. Prior to San Andreas, worked as a Congressional Aid to Congresswoman Zoe Lofgren within her District Office located in San Jose, California. Over 25 years of Public Service experience working with federal, state, and local municipalities as well as community based organizations, K-12 schools, and various after school programs. Received my Bachelors of Science Degree and Graduate Studies from San Jose State University.
Father to three amazing, beautiful, educated, intelligent, independent, strong, and loving daughters. Amanda Valenzuela (25), Ashley Valenzuela (22), and Melissa Valenzuela (13) are my life and give me a very reason to be proud a proud father.
***
Debra Muzikar and Keri Bowers are co-founders of the Art of Autism Project, a nonprofit. Keri Bowers has been giving Hearts and Arts Awards for over a decade in Ventura County. This is the first time the awards have honored those throughout the state of California.