by Debra Hosseini
I first met the dynamic Michael Leventhal a couple years ago through Autism Brainstorm, an autism hub that started with a collaboration between the marvelous Kathleen Tehrani and Michael. That project has since taken off with Kathleen at the helm. One of their focuses is peer-to-peer networking between educators and families using the free networking software on the site. They have made inroads into third-world countries. Currently, Kenya and Pakistan use their site for staff development and to communicate with parents.
Michael, a former Special Education teacher, has an impressive resume which includes website development, documentary videos for curriculum in New York, technology, and academic and vocational instruction for special needs students. Michael, like the Art of Autism Project, is all about collaboration. He created www.Tech4Autism.com to encourage collaboration between parents and eductors. He's now concentrating on shifting public perceptions about autism and other neurodiversities.
Michael has since left Autism Brainstorm and has branched out to a new project Cloud-Burst.tv, which is a showcase for creativity. Michael hopes his new venture will draw public attention to the site and the creativity of the neurodiverse community. The tagline for Cloud-Burst.tv is Embracing neurodiversity through the inspiration of Literature, Art, Music and Media.

The first major project that Cloud-Burst.tv is featuring is the Me?We! Artist Collaboration. This unique project, inspired by Gee Vero's Inclusion Project, takes a piece of art on a canvas and asks for participants to complete it. Michael states that it is "the physical manifestation of the dialogue, between two people who, after getting to know each other better, blend their thoughts through a shared creation."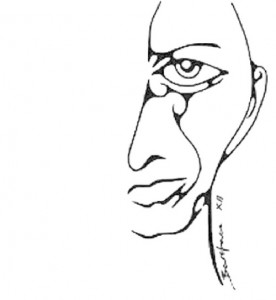 So far Michael has four artists who've participated including the German artist Gee Vero, my son Kevin, the doodle-artist Frank Louis Allen, and Aaron Feinstein of The Miracle Project. They are looking for other artists to expand the project.
The amazing Frank Louis Allen took this image of Kevin's: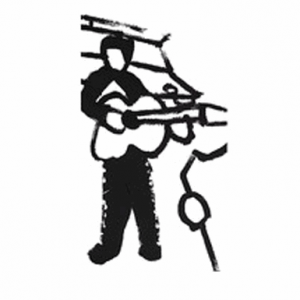 And turned it into this: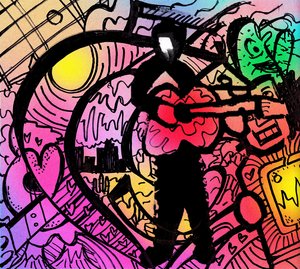 Michael intends to transform the art work from the Me?We! Project into an installation that can serve as a centerpiece for neurodiversity-related conferences. He envisions an interactive, immersive experience for the viewer.
Michael is also very interested in the criminal justice system and how it serves (or doesn't serve) those on the spectrum. I'm looking forward to working with Michael and others on issues relating to social justice, the criminal justice system, and autism in the future.
Michael makes the point that we all are on the Human Spectrum. He's looking to serve a larger agenda that makes neurodiversity the norm.