by Debra Hosseini

Part 2: Series on Transition Programming for Autistic Young Adults
Last Saturday I had the pleasure to meet with Lana David and Susan Osborne to talk about their nonprofit Autism Unites. I've talked to them in recent months about Kevin moving to their innovative, residential program in Culver City.
Autism Unites is the umbrella for Autism Spectrum Integrated Services (ASIS) and the Los Angeles Vocational Academy of the Arts.
"Our program is about the art of connection," Executive Director Susan Osborne says. "When you don't connect with others you become angry and depressed. We want our participants to feel positive and motivated; not isolated."
Susan, a behaviorist and parent of a 20-year old Autistic son Jacob, is a proponent of such programs as Relationship Development Intervention (RDI) and Floor-time. Susan believes the evolution of autism therapies is getting away from traditional ABA-type therapies and moving towards relational models. This is a horizontal-model that focuses on empowering the Autistic person. Instead of collection of data for "normalizing" the Autistic person, Susan and Lana believe that emotional well-being is the goal. Relationships will give the Autistic person motivation.
"Behavior is communication," Lana says. Lana is a proponent of changing the environment in order to change the behavior. She has modeled her residency-program for her nephew Adam from concepts in Bruce Lipton's Biology of Belief. She hopes to eventually open a ranch, which will operate much like a kibbutz.
When dealing with problem behaviors, Lana asks "What can we shift in the current situation to change the behavior?" Lana feels that Autistic people are operating in the "real world." It's the neurotypicals who are often "slaves to our own miseries." We are conditioned to hide our emotions, and react in unnatural ways to the environment. Autistic people always tell the truth through their behavior.
"We can't make assumptions based on appearance," Susan Says. "Parents often get stuck in their own paradigms."
ASIS will offer three options.
Option 1 is the residential program where a student lives in their own apartment with "friends." Lana believes that "Autistic people help us to connect." She has created a customized program for her nephew, Adam. Adam, who Lana describes as a young adult with significant challenges, shares a residence with two "friends." The friends are trained to follow the resident's lead; executive functioning and life skills are embedded into the program. Critical to the program success is planned get-togethers.
Lana, a homeopath, encourages participants to practice healthy living habits: exercise, diet, and even mindfulness and yoga.
Option 2 is for parents who have a spare room in their house. A trained student can live in the home for one, two, or three years. The student becomes a friend and part of the family.
Option 3 is on an hourly basis. ASIS will match participants with a friend, help build friendship, and participants will learn life skills.
They envision recruiting students from UCLA and USC which are close to Culver City. The students they recruit will share a preferred interest with the Autistic participant. For example, if Kevin participates, they'll match him up with a student of art and they'll create a project together.
Self-advocacy and person-centered planning is crucial to the process. Person-centered planning is a process-oriented approach to empowering people with disability labels. It focuses on the people and their needs by placing them in charge of defining the direction for their lives, not on the systems that may or may not be available to serve them.
Autism Unites is launching this summer with a vocational training program – Los Angeles Vocational Academy of the Arts. They are offering a film production camp, which will be run by Susan. They have partnered with award-winning producer George Paige and GPA Entertainment to work on a real-life film, Topanga: A Documentary about Discovering the Art of Connection. Instruction will be given in animation, and voice over. Bill Wong, autistic himself, is a consultant on the project. Bill has a degree in occupational therapy and will assist Susan on incorporating sensory integration techniques into the camp.
"Our interns in our program become Autism Ambassadors," Lana says. "These are the employers of tomorrow. We are helping our society understand autism. Our children open our eyes to see the world in a different way."
Last month, Autism Unites had a successful fundraiser which featured Robbie Krieger of The Doors and percussionist, Hani Naser.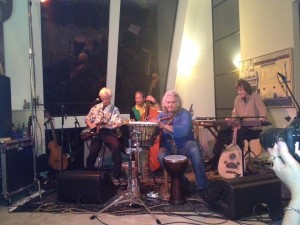 On April 29, Autism Unites will partner with Emily Iland for a showing of "Be Safe: The Movie." Susan is reaching out to community organizations, including law enforcement, landlords, and the Chamber of Commerce to educate the community about autism and their program. The key to successful integration of Autistic people in the community is education and creating opportunities for Autistic people to relate to others in their home community.
Autism Unites will be at the Autismhwy.com Autism Chalk Festival April 12 in Covina.
Part 1: What Makes a Good Autism Transition Program