By Keri Bowers and Debra Muzikar
As part of the Art of Autism California Road Trip in May, The Art of Autism honored people who are unsung heroes in California. As we traveled up and down the state we had the opportunity to stop at people's homes and their businesses. This is a five-part blog as we recognized people in five different locations in California.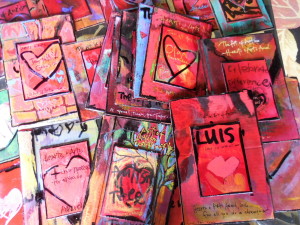 Each award recipient was given a hand-made award from art work of children on the autism spectrum. The art work was a collaborative project with students from the Conejo Valley Friendship Circle in Agoura. Keri Bowers who is an art instructor for the Friendship Circle had the children create the art in classes over several months time. She then personalized the art for each recipient.
Below are our recipients who represent many different innovative organizations in San Diego County.
Sandi and Joel Anderson, Arts in Motion, Joel's Vision Arts, Jeremiah's Ranch, The Autism Tree Project Foundation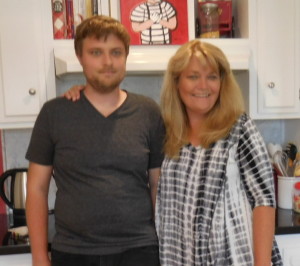 Sandi is the mom to two autistic young adults. One of her sons Joel Anderson and his mom work as a duo for Joel's Vision Arts, a business which includes Joel's art, animation, logos and books as well as speaking engagements. Joel has spoken at conferences and at schools educating thousands about autism. Sandi has also spoken internationally about autism. Sandi is a founding member of Jeremiahs's Ranch and the College of Adapted Education in Fallbrook and has served on committees for the Autism Tree Foundation Project in San Diego County.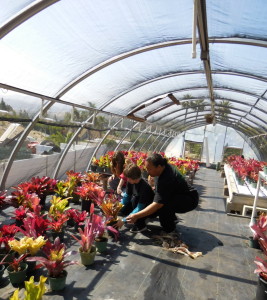 Lenila Batali, Jeremiah's Ranch and College of Adapted Education
Lenila is a mom to two adult girls, one with special needs. In Fallbrook she is one of the founding members of Jeremiah's Ranch and the College of Adapted Education. She conducts the monthly parent support group meeting and has recently implemented a Social Etiquette training as part of the monthly social. Lenila hosts workability programs on her farm in Fallbrook and teaches dance and art to people with special needs.
Chantal Sicile and Jeremy Sicile Kira, Autism College and Jeremy's Vision
Chantal has combined her passion for empowering others, her love of writing, and a her personal interest in autism those with disabilities to become an award-winning author and speaker. Chantal is founder of the Autism College, a place where people can go to get educated about autism. Jeremy her son is an artist who expresses his view of the world through his personalized portrait paintings. Jeremy's art can be seen on his website: Jeremy's Vision.
Dr. Jenny Palmiotto, Marriage and Family Therapist and certified RDI therapist. Founder of The Love and Autism Conference
Jenny Palmiotto is a Marriage and Family therapist at the Family Guidance and Therapy Center in San Diego. She is a certified RDI therapist who specialty is social skills. She is founder of the Love and Autism Conference in San Diego, which focuses on the autistic person first.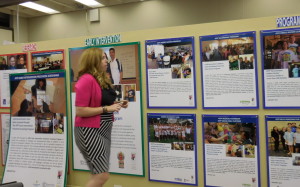 Dayna Hoff and Lisa Kauffman, Autism Tree Project Foundation
The Autism Tree Project Foundation is an amazing autism resource in San Diego. They have 17 programs which serve autistic people and their families. Dayna Hoff has served as volunteer Executive Director of the Foundation for since 2003 when the Project was founded. Lisa Kauffman has managed the programs and the day-to-day operations of this dynamic organization.
***
Debra Muzikar and Keri Bowers are co-founders of the Art of Autism Project, a nonprofit. Keri Bowers has been giving Hearts and Arts Awards for over a decade in Ventura County. This is the first time the awards have honored those throughout the state of California.