"It takes a village to raise a child. It takes a child with autism to raise the consciousness of the village" – Coach Elaine Hall.
By Keri Bowers and Debra Muzikar
As part of the Art of Autism California Road Trip in May, The Art of Autism honored people who are unsung heroes in California. As we traveled up and down the state we had the opportunity to stop at people's homes and their businesses. This is the second of a four-part blog as we recognize people in six different locations in California. The first blog was recipients in San Diego County.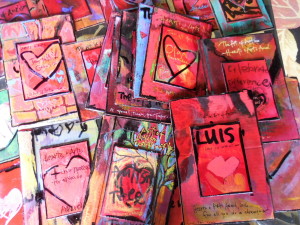 Each award recipient was given a hand-made award from art work of children on the autism spectrum. The art work was a collaborative project with students from the Conejo Valley Friendship Circle in Agoura. Keri Bowers who is an art instructor for the Friendship Circle had the children create the art in classes over several months time. She then personalized the art for each recipient.
Below are Hearts and Arts award recipients who represent many different innovative organizations in Ventura and Santa Barbara County, most who were honored at the Oxnard showing of the new documentary Normal People Scare Me Too in Oxnard on May 19. We want to especially thank Plaza Cinemas for hosting this event in Oxnard.
Because our adult sons Taylor Park Cross and Kevin Hosseini were raised in Ventura County and Santa Barbara Counties, respectively, many of these awards were part of our personal journey.
"Each of these three women have made a lasting and significant difference in Taylor's life. They are passionate, progressive, forward-thinking women, who made a huge impact on Taylor's and my life; at times being the very wind under my sails. Jackson Wheeler created an independent living curriculum which allows Taylor to now live independently," Keri Bowers
Tammy LaForest, People Creating Success/FADE
Tammy LaForest is Taylor's current case manager at FADE, a program that supports Taylor to access college and career goals. Always going above and beyond, Tammy has helped to created one the of the most person-centered, comprehensive (if not the best) programs Taylor has been a part of in his lifetime. FADE is a division of People Creating Success, a provider of supported and independent living services and day programs.
Laurie Jordan, Rainbow Connections Family Resource Center
Laurie Jordan is the Director of Rainbow Connections, a partner with Tri-Counties Regional Center, that provides support, information, training and activities for families. Working with families over the years – including Taylor when he was a little boy – Laurie has been a fierce and positive advocate for families throughout the Tri-Counties area.
Sharon Francis, Channel Islands Social Services
Sharon Francis is the Founder and CEO of Channel Islands Social Services, Ventura County's In-Home Respite service. They provide free in-home respite care to families caring for a children or adults who have developmental disabilities. Prior to starting Channel Islands, Sharon was a case manager at Tri-Counties Regional Center, and Taylor was a part of her case load.
Jackson Wheeler, Retired from Tri-Counties Regional Center and the Ventura ARC
Inspired by his older brother with a developmental disability Jackson has had a long career. At the ARC he taught social rehabilitation (social skills) which led to his work at the Towards Independent Living (TIL) program in Ventura where he helped developed the TIL curriculum. Jackson worked for over 17 years for the ARC prior to coming to Tri-Counties Regional Center (TCRC) where he soon rose into management and worked for nearly 27 years. The curriculum developed by Jackson is still used. Award recipients Brent Anderson and Taylor Cross have successfully graduated from that program and are living independently in Ventura, California.
"The following five award recipients have been a huge support to my son Kevin. They've been supportive through some very challenging times in our life. They are person-first in how they think and all display incredible passion for their vocation. They are all great advocates for people with developmental disabilities and people I consider my friends." Debra Muzikar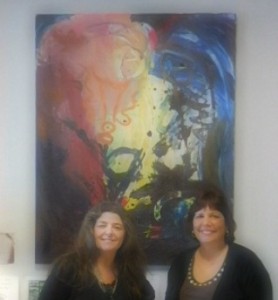 Shella Comin-Dumong, / Coalition for Housing, Accessibility, Choices, and Equality (CHANCE Inc.)
Shella inspired by her daughter Simone is a statewide advocate for people with developmental disabilities. The nonprofit she founded CHANCE, Inc. provides case management for people with developmental disabilities to find housing in Santa Barbara County. Shella is a huge advocate for people with developmental disabilities not only in her home community but statewide.
Jim Billington, Hidden Wings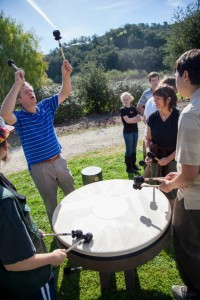 Jim and Julie Billington are founders of the nonprofit Hidden Wings in Santa Ynez, California. Inspired by their sons on the ASD spectrum, Jim has created an innovative program for adults with different learning styles. Hidden Wings program include hiking, kayaking, swimming, art, photography, computer skills, and drumming. Kevin has participated in many activities at Hidden Wings and especially loves drumming on the "heart drum" with Jim.
Omar Noorzad, Tri-Counties Regional Center
Omar as the Director of the Tri-Counties Regional Center has supported artists on the autism spectrum for many years by purchasing art which decorates the Tri-County Regional Center offices. The Tri-Counties Regional Center is a leader in funding housing initiatives in California. Omar has always been very supportive of The Art of Autism and many of our projects.
Olga Hernandez, Education Specialist
Olga Hernández is an Education Specialist who teaches students with moderate to severe disabilities at Hueneme High School in Oxnard. She is the parent to three children. Olga is one of the most compassionate people I know. I met Olga through FB when Kevin was having a difficult time. Since then Olga has received her Master's in Education from Cal Lutheran and is now an Education Specialist.

Gayle Rasmussen, paraprofessional at Carpinteria Unified School District
Gayle has been a paraprofessional in Special Education for the last 14 years in Carpinteria Unified School District. She serves on the school district's union negotiating team representing classified staff. Gayle assisted Kevin in class in Carpinteria for many years. She was an integral part of Kevin's team and a great advocate for students with special needs.
Autistic Advocates & Family Awards include: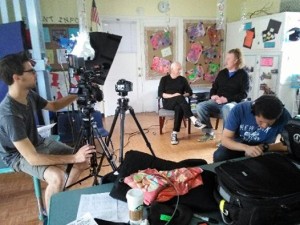 Taylor Park Cross, Co-Director Normal People Scare Me Too
Taylor is the reason why Keri Bowers has spent over two decades advocating for people with special needs. Diagnosed as a young child on the autism spectrum, Taylor has surpassed many people's expectations – graduating from high school, attending college classes, living independently and creating documentary films.
James Poggione, People Creating Success
James is a self-advocate (on the ASD spectrum himself) and support staff to Taylor at People Creating Success. James is a football coach and a CTE brain injury expert. James accompanies Taylor on recent tour locations for Normal People Scare Me Too and has moderated the panels after the film.
Brent Anderson/Linda Anderson, Unintentional Humor
Brent and Linda Anderson find humor in the literal mind. Brent is a true lover of animals of all kinds. Brent was recently a keynote speaker for the ASA Conference in Denver (along with Temple Grandin). Brent graduated from the TIL program in Ventura and lives independently. Linda works with her daughter Jenny Anderson of Celebrate Edu, a nonprofit that focuses on giving people the skills they need to follow their passions and be successful entrepreneurs.
Jenny Anderson, Celebrate Edu
Jenny Anderson, inspired by her brother Brent, started a nonprofit which helps young adults follow their passions and have the skills they need to be successful entrepreneurs. Jenny and her mom Linda have been supportive of Kevin Hosseini, Dani Bowman, Brent Anderson, and many other people who participate in the Art of Autism project. Their online curriculum is helping many people succeed in entrepreneurship.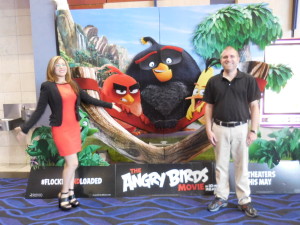 Dani Bowman, DaniMation Entertainment
Dani is founder of her own company Danimation. Dani is an international speaker, a mentor, an artist, a writer, and a young entrepreneur who managers her own company. Since it's launched in 2009, Powerlight Danimation Studios has premiered five animated short films at the San Diego Children's Film Festival at San Diego Comic-Con, illustrated five books, and completed numerous commercial animation projects. Dani resides in La Canada, California with her aunt Sandy and Uncle Patrick.
Luis Tirado, Epic Luis Arts
Luis is a fifteen-year old entrepreneur on a mission to be independent and help others on the ASD Spectrum. Luis has a heart so big – it flows into his art, his music, and advocacy. Luis is a cast member of the film Normal People Scare Me Too and a future mentor for The Art of Autism's Mentorship Project.
Cindy Idell, ASD mom, board member of Pause4Kids
Cindy Idell is the mother of David who is in the film Normal People Scare Me Too and a compassionate giver in the Thousand Oaks community.
***
Debra Muzikar and Keri Bowers are co-founders of the Art of Autism Project, a nonprofit. Keri Bowers has been giving Hearts and Arts Awards for over a decade in Ventura County. This is the first time the awards have honored those throughout the state of California.